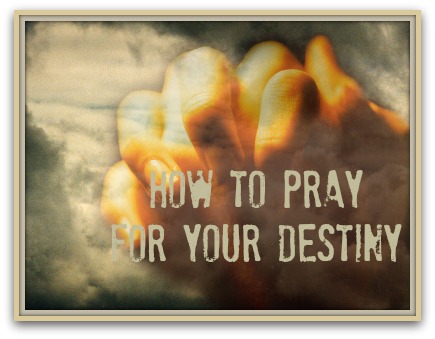 How To Pray For Your Destiny
We all have dreams and desires, things we want to accomplish, and situations we want to see improve. But so often we give up our belief that these things will come to pass.  Perhaps we've tried and failed, gone through a disappointment or become impatient waiting for change.  Today I want to encourage you to reclaim your hope in God's desire and power to work on your behalf.  Your dreams may be taking longer than you wish, but God is a faithful God. Regardless of how long it's been, no matter how impossible it looks, if you will stay in faith, your time is coming.  God loves it when you trust Him enough to ask for those big, seemingly impossible things.
Ask Big
Ask Him for those dreams hidden in your heart.  God wants to bless you. He wants to enlarge your territory. He expects you to ask. If you are not asking for God's favour, His blessings, His increase, then you are not releasing your faith.
There is nothing wrong with big prayers. Dare to pray: "God, I'm asking you to not just supply my needs but to bless me in such a way that I have overflow to bless others!" "God, I am asking you to not only  heal my marriage but to also make it grow happier and more fulfilled than ever before."  "God, I'm asking you that my children fulfil their God-given destinies, and they become strong and mighty in the land, leaders in their fields." Jesus said: "According to your faith it will be done unto you!" So, if you pray for small blessings, you will receive small blessings.  If you pray for big blessings, prepare to receive in abundance.  When you are unsure of what to ask, it's time to slip away to a quiet place with God.
Times of Seclusion
In your quiet times, when it is just between you and God, dare to ask Him for your deepest hopes, your greatest dreams.  It is in these times of uninterrupted conversation between your spirit and God that you experience intimacy, increased knowledge of His love for you, and clarity about the good plan He has for your life.
For a time, God may bring you apart from others so that you can spend more time with Him and more clearly distinguish His voice. When David was tending sheep, isolated and separated from his family, God gave him victories no one else observed.   You too may feel isolated from your family and friends for a time.  But that's a good thing!  It is during our times of retreat from the world that He reveals His presence, His purpose, and His plan.
Jabez Knew How To Ask Big
In 1 Chronicles 4:9-10, we find the prayer of a man named Jabez.  In ancient times, a person's name was a statement of who they were and their future.  The name Jabez means "pain, suffering, trouble and heartache." We have no record of why he was burdened with such a name.  His name undoubtedly affected his self-image, causing him to be insecure and feel inferior.  Can you imagine how it would feel if each time someone wanted your attention they called out, "Hey, trouble, Hey, sorrow. Hey pain"?
So, in this well-known prayer, Mr. Pain Sorrow Trouble Heartache cries out to God.
The Bible doesn't tell us much about him.  We know that he was more honourable than any other in his family. And from his prayer, we can see there was something special about Jabez. In spite of the label that had been given to him, he didn't become bitter.  He knew his God was bigger than his past and said, "God, I am asking that You would bless me indeed."
What a bold prayer! Jabez came to God with his pain and sorrow and said: "God, I have a lot of things coming against me. Life hasn't treated me fairly. But, God, I know You are a good God. I know You have a great plan for my life. So, I am calling on You to bless me indeed."
He didn't ask for God to bless him a little bit. No, Jabez said: "God, I'm asking for abundance. I'm asking for an overflow of Your goodness. Bless me indeed."
Jabez shook off a mentality of defeat, saying in effect, "The name I've been given doesn't matter. I know who I am. I am a child of the Most High God, and my destiny is to be blessed."
Jabez was ready to be released from the burden of his past.  By asking that he would be free from pain, he was asking God to free him from his past, for Pain had been his name up to then.
Jabez went on to ask God for more: "God, enlarge my territory." He was saying, "God, go beyond the norm. Go beyond my borders. Give me extraordinary favour.  God, let me see abundance in my life."
Jabez called out to God, expecting God to answer him. And we are told that God granted his request.   Jabez's hopes were fulfilled.
Nothing Is Beyond Hope
Jabez could have chosen to remain a prisoner of his circumstances.  How about you? Regardless of what you've been through, what you're going through or how bleak the future looks, God is saying, "If you'll ask, I'll give you a new beginning."
If you'll be bold enough to ask for God's favour, the rest of your life can be better than ever before. Your future can outshine your past.
God wants you to appreciate yourself for who He made you to be and to develop what He has given you. You were created one-of-a-kind, an original. Just like Jabez, you have a unique destiny upon this earth.  As you read this, God is seeking you out saying, "If you call out to me, I will tell you marvelous and wondrous things that you could never figure out on your own" (Jeremiah 33:3 MSG).
Call to Action
The most valuable truth you can learn about your Heavenly Father is that He is a good and loving Father who has made provision for your every need.  Nothing is beyond hope.  Are you convinced of that?  If so, why not have an intimate heart-to-heart with Him and tell Him your deepest longings?  Follow the example of Jabez and ask for the seemingly impossible.  God is waiting to grant your request.