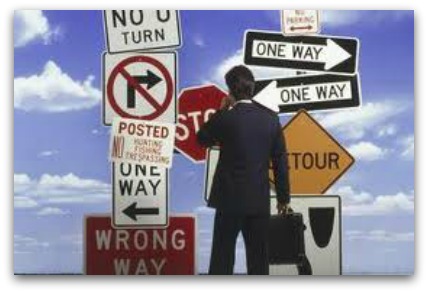 7 Vital Choices You Have To Make In Life
by Olga Hermans
#1: Make a choice to take a stand in your own life
It is one of the most frustrating things when we have the idea that our own life is just rolling down the road. Sometimes there are seasons in our life that we don't even realize what is going on and why things are the way they are.
Do you realize that you are a unique individual? Do you know that there is not one other person in the whole world like you? God made you special, just the way He wants you. He has a unique purpose for your life. Realize that, and you are on your way to being a winner.
#2: Make a choice to be responsible for your own life
You cannot dodge responsibility for how and why your life is the way it is. Take ownership of your own life. If there are things in your life that you don't like; you probably made a wrong choice somewhere. If you are in debt, you are the one that is responsible. Your job, your weight, your marriage; you are responsible.
There is absolutely no reason to blame others or look at the past. There is no victory and no progress in doing that.
When you choose to think and speak negatively, filled with anger and bitterness, you will experience isolation and hostility around you. That is something that you don't want, right? Start making right choices from now on. When you choose the right behavior and thoughts, you will see the right results in your life.
#3: Make a choice to do what works
Somehow you have to discover the payoff that drives your behavior. This is a biggie. If we would realize what consequences our behavior would have in the long run, we wouldn't be so tolerant of ourselves. Who wants to be lonely and bitter and hostile? No-one in their right mind would want that.
I know people who have a self-destructive behavior. My sister died of anorexia nervosa last year because she rejected herself, she punished herself by always asking for negative attention. Remember, you are EXTRA-ordinary because you are one-of-a-kind. When you have even a little self-love and self-worth because of your awareness of God in you; you will start developing Christ-motivated habits that will make you a winner for sure.
#4: Make a choice to acknowledge the issues you want to change
You only can do that by getting real and getting brutally honest with yourself. Look at the areas that aren't working for you and stop making excuses.
You cannot afford to lie to yourself! You have to know where you are in life and where you want to go. Your life is like a GPS system in your vehicle that must have two pieces of information to function. First, it must know your destination, and second, it must know your current location.
#5: Make a choice to take action
Once you've made some decisions, you have to act. Nobody cares about what you think unless they see you do something. Talk is cheap; being a doer determines the course of your life. Take all your revelations, insights and awareness and convert them into purposeful and constructive actions. That is when your life will gain value and meaning.
Realizing you have to change might be painful, but staying where you are and not doing a thing is more painful. So, take the pain that burdens you have now and turn the situation to your advantage.
#6: Make a choice to take charge of your life and hold on.
Our life needs a manager and you are the one! God has given us authority to rule our own life. You really should make it your objective to be very active in doing that. Do it in a way that generates high quality results. You are the only one who can make your life work.
The key to managing your life is to have a strategy. You need courage and energy to execute that strategy. If you do have a strategy, the future looks bright for you. You know, if you don't require much of yourself, your life will be of poor quality. If your standards are too high, you will give up and you will have more difficulties.
#7: Make a choice to get clear about what you want.
When you know what you want you can take your turn. You need to be awakened to things God has for your life; He has an awesome plan and a purpose for you here in the earth.
By being specific in defining your goal, the choices you make along the way will be more goal-directed. You will recognize which behaviors and choices support your goals — and which do not. You will know when you are heading toward your goal, and when you are off track.
What choice is your most favourite choice and which one do you struggle with the most? 
You can subscribe to The Daily Choice which brings an encouraging message 5 days a week to your inbox by clicking here