Missions has always been the heartbeat of the churches I attended. I believe it is the heartbeat of God; so, I like to dedicate one day per month to mission. I like to do that by giving attention to a mission organization that I know or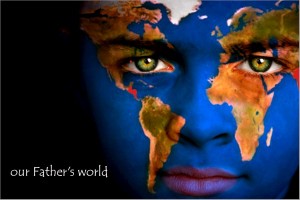 that is familiar to me.
My husband and have attended Victory World Mission Center in Tulsa. If you would have a heart for missions and you sense that you need to be prepared, then that would be certainly a great choice to go to this Missions Training School. There are now Victory-affiliated missionaries in about 90 nations of the world with the numbers constantly increasing.
This Missions Training Center was founded by the late Pastor Billye Joe Daugherty. Since than Pastor Sharon Daugherty pastors Victory Christian Center in Tulsa, Oklahoma, which she, along with her late husband Pastor Billy Joe Daugherty, founded in 1981—today, it has a membership of 17,000. Together the Daughertys established Victory Christian School, Victory Bible Institute, Victory World Missions Training Center, and the Tulsa Dream Center in Tulsa, Oklahoma, which provides food, clothing, medical, educational and recreational services to Tulsans.
Right now I attend CLA church in Langley BC Canada, where missions is also the heartbeat of the church. Missions is foundational to CLA's vision of fulfilling the commission and promise of Acts 1:8. The goal of our church is to build relationships with ministries in our community, across Canada, and around the world.
CLA, My church is involved in sending missions teams abroad to assist with church planting, teaching, relief aid, and construction projects.  Moreover, CLA supports some 38 missionaries worldwide.
So, this is where my desire to serve missions comes from and so one day per month you will find a post about people that are giving their life to the great cause of the commission that Jesus has given to each and everyone of us.
I hope you will come back and visit us often.