The Power of Effective Prayer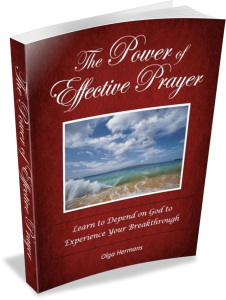 Is an ongoing, heartfelt connection with God possible?

Prayer without drudgery or obligation?
Prayer with a sense of confidence about changing things in your life…
and in others' too?
ABSOLUTELY, YES!

I received dozens of emails from subscribers to our newsletter, The Choice Driven Life, telling me that their prayer lives are empty, dry and powerless. With all their hearts, they desire to know how to pray, how to connect with God and know that He hears and is responding.  

"Often times when I pray, I feel a sense of emptiness, like my prayers are not heard or I didn't do it right. I can't concentrate or I easily get distracted and most of the time my prayers are mere recital of prayers that I have memorized in Sunday School when I was young."B.L.
or,

"For the longest time, I have struggled with prayer."R.M.
It is for these people and perhaps, just for you,
that I have written
The Power of Effective Prayer
God has not made prayer complicated, but rather incredibly simple. In fact, God designed prayer to be as natural as breathing – one of the easiest things you do each day. Unfortunately, sometimes we follow systems and postures which make prayer much more difficult than it really needs to be. You were created with a deep need and desire to connect with God.
The Power of Effective Prayer  shows you the easy, practical steps to: a. Overcome the distractions that keep you from the discipline of prayer. b. Become confident in when and how to pray all the types of prayer. c. Address, head-on, those unexpressed doubts about prayer that you may be embarrassed to admit for fear of appearing "unspiritual".
Good news!
You can cancel your guilt trip!
    The Power of Effective Prayer exposes these five joy-stealing,spirit-withering myths about prayer:
Myth #1: You must schedule a set block of time for prayer.
Myth #2: You must pray on your knees.
Myth #3: You must repeat personal requests over and over, to be sure that God has REALLY heard.
Myth #4: You must fine-tune your presentation before approaching God with a request.
Myth #5:  You must speak eloquently to God, in prayer-worthy sentences.
These are all false notions that will only keep you
from a deeper connection with God.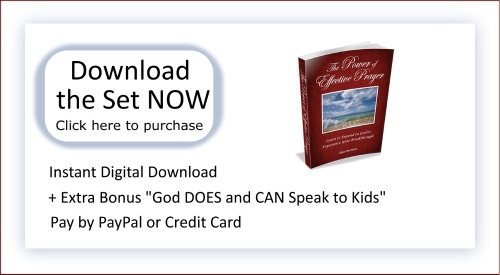 In The Power of Effective Prayer, you'll be happy to discover that:
   a) There are no formulas.  A conversation with God is about discovering how YOU should pray.
b) Your everyday words get the message across to the Father.
c) Effective prayer can be voiced while you're doing the dishes or standing at the bus stop.
d) You can have assurance that your personal prayer has been heard.
  
Sadly, many times Christians give up on prayer, leaving a vast distance between themselves and God.

The Bible tells us:    My people are destroyed for lack of knowledge (Hosea 4:6).   Lack of understanding about prayer will keep you from the intimate relationship with God that He so desires and that you cannot thrive without.


Here's some of the knowledge you'll gain from The Power of Effective Prayer:
The many different levels in a life of prayer – Page 5

God's ways and how He operates – Page 10

The first thing you need to do to set the stage for effective prayer – Page 13

The misconception every prayer should be conclude with these words– Page 19

The different kinds of prayer – Page 21

How to pray the perfect will of God – Page 28

How to draw on the Holy Spirit in prayer – Page 37

Why every Christian is called to intercession – Page 45

How to stop Satan in his tracks so God's purpose for you can come to pass – Page 51

The guidelines given by Jesus for a life of prayer – Page 59

How to pray over your mind and body – Page 65

How God reveals various ways of growing your intimacy with Him – Page 69

How to pray beyond your natural limitations – Page 73

How to allow the Holy Spirit to direct you in prayer – Page 77

What is the bridge between the spiritual and the earthly (physical) realms – Page 84

How to trust God to provide – Page 90

What biblical meditation and confession mean – Page 95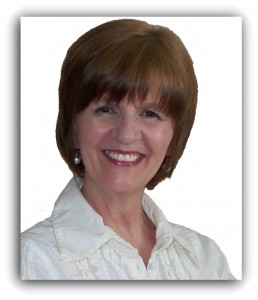 A word from Olga about The Power of Effective Prayer: It is for YOU that I have written this nearly100-page book.   Many of you contacted me, desiring to learn more about prayer.  Soon after, I began to ask God to lead me to the information He wanted in this book.   It's by design that everyone from new believers to seasoned saints will benefit from the truths and insights presented.  If you are hungry for connection with God and want to ignite your spiritual life, this book is for you. 

My desire is for The Power of Effective Prayer to help you move into the ease of intimate conversation with your Heavenly Father. Today, my prayer is that through the book, your mind will be renewed and you will become grounded in the basics of how to pray.   I am trusting God that you will be empowered to cut through ritual, religion and formality and to simply be open and honest with Him. God's Word tells us: Come near to God and He will come near to you (James 4:8).  

In God's nearness to you, you will discover the joys of being led in prayer, day-by-day, by the Holy Spirit.  With the Holy Spirit in the lead, your prayer will cease being routine drudgery and will be replaced with effective, exciting faith-building connection. I promise that after you read this book and apply what you have learned, you will realize greater stability, you will acquire a sense of security, and you will become unshakeable in your faith because you know your prayers are effective.  
The Time Is Now!
  Effective Prayer Changes Everything!
Try before you buy…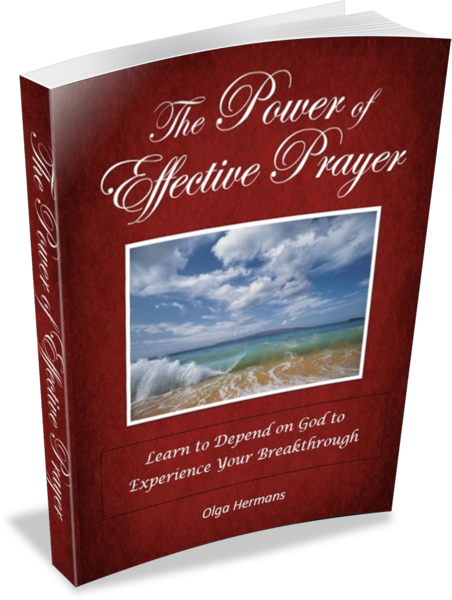 Click Here NOW for your personal preview!
BONUS OFFER
Purchase The Power of Effective Prayer
and I'll give you, absolutely FREE,
How God CAN and DOES Speak to Kids
The Power of Effective Prayer
PLUS the FREE BONUS
How God CAN and DOES Speak to Kids
Altogether, more than 100 pages of 
content that will radically change 
your prayer life, NOW!
No.  I want you to have this ebook and bonus for just

 

$17.97
This offer is RISK FREE.
In other words, YOU HAVE NOTHING TO LOSE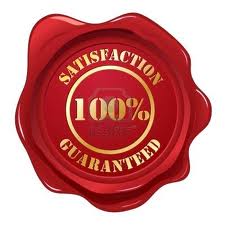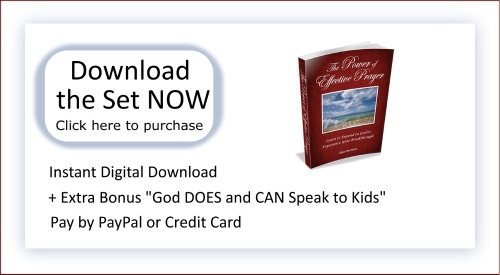 Endorsements:
"I have known Olga Hermans, author of "The Power Of Effective Prayer" for over thirteen years, both as a friend and ministry colleague.  Olga is passionate about prayer and teaching other how to effectively receive the answers they need from our Heavenly Father.  In this fabulous book, Olga takes the reader step by step through the process of developing a powerful prayer life that brings tangible, breakthrough results.  I highly recommend this book to all believers.  It will transform the lives of new Christians and revolutionize the prayer lives of the more spiritually mature.  An easy read, the revelation in this book will explode into your spirit and you'll never be the same!
Angela Stevens,
Co-Pastor New Life Christian Center Stigler,
Oklahoma