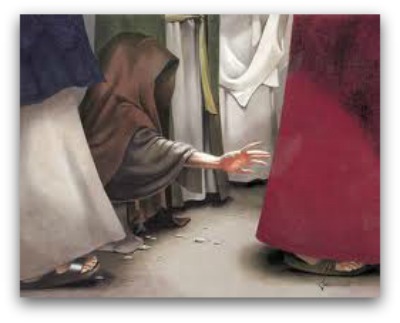 Jesus ALWAYS Wants to Heal You!
By Olga Hermans
One of your most vital spiritual assets that you need these days is your healing. No matter how committed you are to your assignment from God, it's tough to keep believing for the victory when your body is hurting. It's more difficult to be strong in your spirit when you're physically weak.
You know it, I know and satan knows it!

Sickness can really slip up on us and when we don't have enough strength to resist it, we get discouraged and end up being robbed of our precious time being effective in what we are doing. That is definitely not the way it should be.
When we desire to be valuable and successful in the Kingdom of God; we need our full strength and health to fulfill all God has called us to do. Please don't think right now that you know everything you need to know about healing, because you might miss out on something.
You see, healing doesn't come just by agreeing with the right doctrine. It doesn't come from just listening what other people say. Jesus Himself is the healer. So, the very first thing we need to do is go to Him.
When you read the gospels you see that people flocked to Jesus by the thousands when they were sick. They didn't first go to the church, although that is a good thing to do. They didn't complain to their friends. They went to Him! When they did, He was good to them and preached the Word to them.
It always was Jesus personally who delivered people from their sicknesses and pains. He is the one who took their infirmities away so that they wouldn't have to suffer with them. If you draw to Jesus and fellowship with Him in His Word, He will speak to you just as personal as He spoke to the people in the Gospels.
He will reach out to you and touch you with His healing power just as He did to Peter's mother in-law who was sick with fever. As you will stretch your heart towards Him in faith, His healing power will flow into you just as it flowed into the woman with the issue of blood. Absolutely!
Sickness is NEVER a blessing. I don't know why people think that God loves them and makes them sick at the same time. Jesus is ALWAYS willing to heal you; that is what He said time after time to the people who came to Him for healing. Acts.10:38
Jesus settled the crucial issue of whether or not it was God's will to heal by answering the leper with one short, simple declaration. "I am willing," He said, "be cleansed." Isn't that awesome? Aren't you glad that Jesus didn't give that man a list of 31 reasons why it might not be God's will to heal Him? Aren't you glad that He didn't say, "Well, let me pray about it; sometimes God uses sickness to teach people things and if that's the case, I'll have to leave that sickness on you for a while."
No, Jesus never said that to anybody. He is ALWAYS available to heal you from the top of your head to the bottom of your feet; every sickness has to go when you come in contact with Him. So, make a choice today and seek Him in the Word and let His healing power flow through your whole being.
Sickness is never God's will for people. If it was, He would have put some sickness in the Garden of Eden before the fall. When He created Adam and Eve, He would have put some cancer or leprosy on them to bless them and make things better. He didn't do that back then and He doesn't do that right now. God has never changed His mind; He is always the same; yesterday, today and forever.
Could you ever look up to the cross and say, "Jesus, is it really Your will for me to be healed?" No, of course not. You know that on the cross He was suffering and dying for every need that you would ever have; from sickness to poverty and for every sin that you would ever commit.
You and I know that healing belongs to us because it has already been bought and paid for. We can reach out with confidence and receive it whenever we need it,  knowing that we have "a great High Priest who is able to understand and sympathize and have a shared feeling with our weaknesses and infirmities.' Hebr 4:14-15
We never have to wonder ever again if healing is ours. What Jesus did on the cross settles it. His sacrificial love cuts through all the entanglements of all our theological and denominational opinions.
It doesn't matter what others say; Jesus has spoken to us His will for all eternity. He has said not just with His lips but with His precious, poured out blood: "I am the Lord who healeth thee."