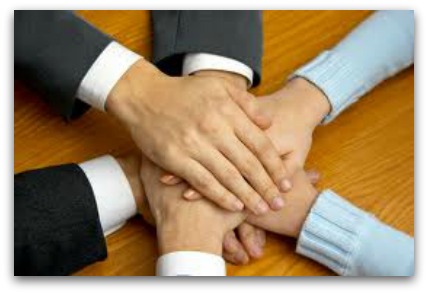 The Importance of Relationships
by Olga Hermans
The other day I heard somebody say, "The more I get to know some people, the better I like my dog." It shook me for a minute, but then I thought…in some cases that might be true. Last weekend I was in a large crowd of people and really met the most interesting people from all walks of life. I love that!
But I must say, some people are sometimes just a little obnoxious if you know what I mean. God must have a sense of humor because He puts us all together in one place and wants us to realize that we need each other. He wants us to know the power of relationships; He works through people like you and me to get us where we need to be. So, let's have a look at the importance of relationships the way God meant it to be.
In the first chapters of Genesis, you can read that God created and then you always can read: "and God saw that it was good". But then when He created man, He said something different. He looks at man and says, "It is not good…" Genesis 2:18
He didn't say that man wasn't good, but that the situation he was in wasn't good. That is a profound statement that God made, because He says here that He created man to need more than just a relationship with God. He created us to need each other. It wasn't that God was lacking or not able to be all we needed, but that He designed us to need each other.
God did not create Eve immediately after He said: "…I will make him a helper" Genesis 2:18 But God didn't forget what He was doing, He knew what Adam needed, but Adam didn't. So, God brought the animals in front of Adam to make him aware of his need. As Adam began to name them, he began to realize that all the animals had others like them but he had no one to like himself.
God was able to alert to his need as well as to establish the fact in Adam's mind that nothing on this planet could meet that need except another person. If Eve would have shown up before Adam knew he needed her, he might have marked off the garden as his and not let Eve in.
"So, God caused a deep sleep to fall upon man, and he slept; then He took one of his ribs, and closed up the flesh at that place." Notice that God did not go back to the dust of the earth to create Eve. He took what He needed out of Adam's side without replacing what He took, and then He finished Eve.
When Adam awoke, a part of him was missing. Part of his spiritual, emotional, and physiological makeup was gone and he sensed it. He was now even more incomplete and alone! When God finally brought Eve to him, Adam called her wo-man!
Sometimes, people think that needing others, or having to depend upon others, is a sign of weakness. Our society teaches us that independence equals strength, when just the opposite is true. It takes great strength to get along with others. You need to have a lot of inward flexibility and plain common sense to stay in relationships; trust God to help you and negotiate the differences. All it takes is a well developed attitude of selfishness to run out and do your own thing. There is a lot of that going on these days.
God created us with a need for others. The need for meaningful relationships was not a result of man's fall into sin. Our desire for relationships was the plan and will of God. We were designed to need each other before the fall! In fact, we fulfill God's created order when we recognize that need.
I am not saying that we should smother our relationships; people have been abused or abandoned by others and often carry the pain of old relationships into new ones. They often try to get people in new relationships to make-up for all the evil that has been done to them previously. The true meaning for relationships is not a devouring, damaging, suffocating thing. It is a mutual supportive expression.
People who have been hurt need to learn how to forgive those who have offended them in the past so that they not poison their future relationships with the pain of past ones.
God created us as wonderful beings, as the crown of His creation. He created us with a will and with an intellect. He created us with the power to choose because He didn't want to force us to serve Him. God wanted us to have the free choice whether or not to walk with Him. But how is God going to let us know how He feels about us? Do you remember how God reached out to Adam and how He communicated His love for Adam? How was God to tell Adam His plans, dreams and purposes for him?
How was God able to tell Adam how much He loved him? How could Adam understand love? That's why God gave man the ability to love and to need others. Though relationships are NOT God's primary way of revealing Himself; we need to take it serious. When our relationships are perverted, they will hinder us in our life in everything that we do and desire to accomplish.
How well are your relationships doing? Tell us in the comment section what stood out to you in this post.
You can get my eBook: The Power of Relationships by clicking here