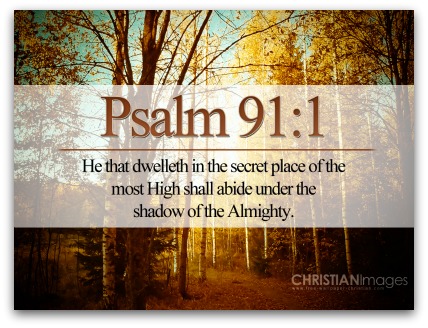 Abiding Under The Shadow of The Almighty
 by Olga Hermans
Once you know that divine protection belongs to you, there are some conditions you must keep to activate that protection in your life. Psalm 91:1 makes that very clear; if you are going to enjoy God's protection, you're going to have to abide in Him.
The word "abide" means to lodge, or to set up camp. He that dwells in the secret place of the most High shall lodge under the shadow of the Almighty. Notice that you can't see a shadow, but it's always there. To be in somebody's shadow you have to be pretty close to him or her. In other words, you have to be pretty close to God to lodge under His shadow.
Make no mistake; however, going to church does not make you close to God. Lots of people go to church but are not close to God. They just go to church. The word does not say to draw near to your church, and you'll be close to God. It says to draw near to God and He'll draw near to you.
The depth of your relationship with God depends on the time you spend with Him, because you spend time with whom you love. Are you someone who spends time in worship before God, time in praise to God, time in personal one- on-one prayer and communion with God? If you are, you'll notice that the closer you get to Him, the closer He gets to you. You reach a place where you abide under His shadow. And that's the best place to be.
God said in James, "Draw nigh to me, or close to me, and I'll draw nigh to you." Well, to be under the shadow of the Almighty is to be close to the Father. In order to be close to Him, you need to be in fellowship with Him, not out of fellowship with God. Not just a child of God, but you need to be close to the Lord. A relationship needs to have been developed between you and the Father; one in which you can clearly know God's voice when He's leading you and speaking to you.
Never let it be a case with you where all heaven stops because they hadn't heard your voice in decades. Nor let it be with you that the only time that heaven hears from you is when you need something. On the contrary, develop a relationship with the Father where the Father can speak to you and you can speak to Him.
What does it take to become an abider?
Putting God's Word in your heart, for one thing. John 15:7. The truth that is alive in your heart is the truth that you act on every day. Truth comes alive in you when you think about it, meditate on it and apply it to your life, so at the moment of danger, the Word of God is your first thought.
Take the 91st Psalm into yourself daily until it becomes engrafted in your heart. Remember this: it's the Word that you act on today that will get you delivered. It is not what your heard last year. It isn't even what you know. It is what you do. Keep yourself full of God's Word and you will do it.
Another definition of abiding is simply obeying. 1John 3:6 says, "Whosoever abideth in him sinneth not." The reverse of that is also true – whoever sins (or is disobedient) does not abide in Him.
It is a good thing that we live in the time of grace and mercy and it is never too late to call upon the Lord. But you have to know that you need to live close to Him and abiding in the Word (God's wisdom revealed to us) or it will be difficult for you to call on Him in faith when calamity comes.
Don't live day after day by the world's standards, because when a crisis comes it will be hard for you to take your dependence off the world and put it on Him.Pro 1:29-31
In other words, if you are going to live like the world, your outcome is going to be like that of the world. Pro 1:33
Prov.1:33  is exactly the protection that I like to know; it is promised to you and me!
Learn more about "Abiding Under The Shadow of The Almighty" in my book by clicking here!
You can subscribe to The Daily Choice which is a SPIRITUAL Devotion that helps you to make the right choices in your life!