Rekindle The Fire Of Your Belief
For Abundance And Blessings
That is why I would remind you to stir up (rekindle the embers of,
fan the flame of, and keep burning) the [gracious] gift of God, [the inner fire] …
2Tim. 1:6a Ampl
We all have dreams and desires, things we want to accomplish, and situations we want to see improve. But so often we give up our belief that these things will come to pass. Perhaps we've tried and failed, gone through a disappointment or become impatient waiting for change. Or maybe we have just grown complacent about the dream God has placed in our heart.
Today I want to encourage you to rekindle your fire. Reclaim your hope in God's desire and power to work on your behalf. Your dreams may be taking longer than you wish, but God is a faithful God. Regardless of how long it's been, no matter how impossible it looks, if you will stay in faith, your time is coming. When things seem impossible, call out to God, who specializes in the impossible. God loves it when you trust Him enough to ask for big things.
Ask Him for those dreams hidden in your heart. Ask Him to fulfil your highest hopes and dreams. God wants to bless you. He wants to enlarge your territory. He expects you to ask. If you are not asking for God's favour, His blessings, His increase, then you are not releasing your faith.
There is nothing wrong with big prayers. Dare to pray: "God, I'm asking you to not just supply my needs but to bless me in such a way that I have overflow to bless others!" "God, I am asking you to not only heal my marriage but to also make it grow happier and more fulfilled than ever before." "God, I'm asking you that my children fulfil their God-given destinies, and they become strong and mighty in the land, leaders in their fields." Jesus said: "According to your faith it will be done unto you!" So, if you pray for small blessings, you will receive small blessings. If you pray for big blessings, prepare to have that fire re-ignited and receive in abundance.
In your quiet time, when it is just between you and God, dare to ask Him for your deepest hopes, your greatest dreams. God may need to separate you from other people for a time you so that you can spend more time with Him. You may even feel isolated from your family and friends for a time. But that's a good thing! It is during our times of retreat from the world that He reveals His presence, His purpose, and His plan.
God is saying, "If you'll ask, I'll give you a new beginning. If you call out to me, I will tell you marvellous and wondrous things that you could never figure out on your own".
Will you choose to ask God restore the fire for those big desires of your heart? Now, that's the choice-driven life!
Today's Bible Reading:
Jer 14-16; 2 Cor 13; Psalm 76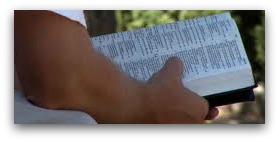 Click Here
for your 5 Day Weekly Bible Reading plan!
Subscribe to our FREE Updates as soon as they are published and receive our FREE Report; Click Here
The Most Important Choice You Can Make: Prayer for Salvation: God in Heaven, I come to You in the name of Your Son, Jesus. I confess that I haven't lived my life for You. I believe that Jesus is the Son of God. I believe that He died on the cross and rose again from the dead so I might have a better life now and eternal life in heaven. Jesus, come into my heart and be my Lord and Savior.
From this day forward, I'll live my life for You to the best of my ability. In Jesus' Name I pray, Amen.
Click Here
if you need more information.