Don't Be Critical of Yourself
Being confident of this, that He who began a good work in you,
will carry it on to completion until the day of Christ Jesus.
Philippians 1:6
Are you the type of person who is never satisfied with yourself? Perhaps you've tried to imitate or mirror someone else because you don't feel good enough as you? Is your heart crying out to be accepted for who you are right now?
I remember never feeling good enough, no matter what I tried. As a result, there was absolutely no joy in my life. You see, when we are not able to accept ourselves, we also will have a hard time accepting others and will most likely have a difficult time getting along with others.
When you have problems with other people, there are usually deep and longstanding issues that you must deal with. You need to enjoy yourself. You need to like your personality and be free from comparing yourself to others.
God made you unique in every way. It's your mission to discover that and believe it. You are not weird. You are unique and every unique thing has value. Because it is rare, it has worth. One of the greatest gifts you'll ever receive is the freedom to enjoy being yourself. But, you ask, how do I make these changes? If I could have, I would have.
You have the Holy Spirit working alongside you, and as you ask God to help you change your understanding and self-perceptions, He will. Here are some biblical mindset changes that will help you begin to enjoy being you:
1. Speak God's Word over yourself.
Find out what God says about you and then say it. Begin with: "I am the righteousness of God in Christ. God created me and formed me with His own hand, and God doesn't make mistakes. God loves me fully and I can't do anything to cause Him to love me more." Begin each day by speaking these spiritual vitamins over yourself. You will notice the difference.
2. Don't compare yourself to others.
God loves variety. He even gave us unique fingerprints. Of course we can look at other people as role models, but not to copycat them. Because our personalities are as unique as our fingerprints, character traits will be expressed differently in different people. For example, my daughter shows kindness in a totally different way than I do.
3. Always focus on your potential, never on your limitations
Don't limit yourself by dwelling on your weaknesses. I'm not saying to ignore your weaknesses. No. Our weaknesses can provide a benchmark for our progress in turning them into strengths. I have noticed that people with great confidence have just as many weaknesses as you and I; however, they do one thing different: They focus on their strengths.
4. Prepare yourself to deal with criticism
If you are a person who wants to move forward and follow your dreams, you will experience criticism. When you don't follow along with the crowd because you realize that God has called you into a different direction, people will have issues with your boldness. When we began making plans to immigrate to Canada, we were criticized. But you know what? We are here and those who criticized us can only wish to live in this awesome country.
Adopt these four practices: speak God's Word over yourself, don't compare yourself to others, focus on your potential and be prepared for criticism. Now is the time to be totally and wholeheartedly yourself. There is no one else on this earth who can be you.
Will you choose to accept yourself as you are? Now that's the choice-driven life!
Today's Bible Reading:
Zephaniah; 2 Cor 8; Psalm 74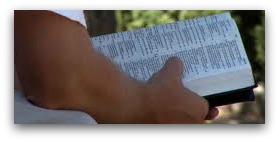 Click Here
for your 5 Day Weekly Bible Reading plan!
Subscribe to our FREE Updates as soon as they are published and receive our FREE Report; Click Here
The Most Important Choice You Can Make: Prayer for Salvation: God in Heaven, I come to You in the name of Your Son, Jesus. I confess that I haven't lived my life for You. I believe that Jesus is the Son of God. I believe that He died on the cross and rose again from the dead so I might have a better life now and eternal life in heaven. Jesus, come into my heart and be my Lord and Savior.
From this day forward, I'll live my life for You to the best of my ability. In Jesus' Name I pray, Amen.
Click Here
if you need more information.