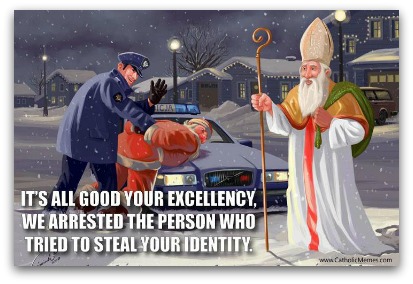 Merry Christmas!
Christopher Columbus introduced St. Nicholas Day to the New World when he landed in the West Indies on December 6, 1492, and named the harbor, in honor of the patron saint of sailors, Port of St. Nicholas. Dutch Americans eventually adopted December 25 as their day of celebration, and by the end of the Civil War, St. Nicholas the Bishop was generally known in the United States as Santa Claus.
Those who read my blog posts on a regular basis know that I was born in The Netherlands. Last week on December 6th the Dutch people in the Netherlands and Belgium celebrated Christmas. The character of Santa Claus (Sinterklaas in the Dutch language), is based on St. Nicholas.
So I wanted to share you with about Saint Nicholas: who he really was and what he stands for.
The Dutch Tradition of St. Nicholas
For Dutch speaking people, St. Nicholas comes by steamship from Spain, arriving early in the month of December with lots of gifts for the children. He rides a white horse across the rooftops of all the houses to deliver the presents he's brought. Children write letters to St. Nicholas asking for a doll or a train. But sometimes they ask for a new dad, when their own dad had passed away, or perhaps for their divorced parents to get back together.
Dutch children leave drawings and wish lists, in their shoes along with carrots or hay for St. Nick's horse, hoping St. Nicholas will reward them with small gifts. The idea is that in order to receive you must give. I remember that as a child, I always went all out in making the best drawing.
Dutch people gather to sing, eat and exchange small gifts and surprises including candies, chocolate coins and initial letters, and riddles. Gifts from "St. Nicholas" include clever rhymes that humorously highlight a person's strengths and shortcomings. It's all a lot of fun. But let me share with you who St. Nicholas really is.
Who is St. Nicholas?
He is a great inspiration to many people. He was a godly man who had a reputation of giving to all people, from the rich to the very poor, from those who did great deeds for others to those devastated by life's circumstances. He was a revered example to all of us – not a jolly, fat man who got about by flying reindeer and climbed down chimneys!
Nicholas was born in Turkey in the third century and raised by Christian parents. His parents knew that he was special and considered him a gift from God. They were diligent in teaching him about God and being devoted to God. They especially taught him to be generous to the poor.
At the age of 19, Nicholas was ordained a priest. His uncle, who was a bishop, prophesied that Nicholas would lend a hand and comfort many people and that he ultimately, also would become a bishop. All of this was fulfilled in Nicholas' lifetime.
He led a life dedicated to God. It was said that he would spend all night studying God's Word because of his desire to encourage people and to bring comfort to their lives He was also known as a man who fasted, prayed, and stood steadfast in his faith.
His life demonstrated his Christian beliefs and values. Over time his legacy has been perverted and misrepresented by Satan: most of us don't know about St. Nicholas, rather we know him as the myth that Santa Claus has become.
The True Gift Of Christmas
This true story of St. Nicholas is a beautiful picture of the giving that Christmas is all about, because he represents the giving heart of our Heavenly Father. The greatest gift of all is the gift of Jesus Christ given to us by God the Father. In Him we have the joy of living a heavenly life on earth.
Christmas is Christ's Mass and means anointing celebration. So when we talk about the spirit of Christmas, we are celebrating the birth of Jesus who came to this earth as a gift from our Heavenly Father, anointed with the Holy Spirit and with power. We celebrate that Jesus was among us and "went about doing good, and healing all that were oppressed of the devil" (Acts 10:38).
We Are Designed To Be Givers
Jesus personifies the nature of giving by His deeds, acts and His ultimate gift of sacrificing His life. We all have been endowed with that God-given nature to give to others. This nature is more obvious in some than in others; some of us love to serve our fellow man while others are so conformed to this world that this gift is masked by selfishness and the love of mammon.
Because God created us and we were formed in His likeness, it is in our hearts, in the core of our beings to give and serve others. It doesn't matter how distorted the world makes us, deep down on the inside of every person is an instinct to look out for the person next to us.
This is the very nature of our Heavenly Father and it is this nature that He placed in us. Paul told us in First Corinthians 13:4-8 that this love toward others never gives up. Love cares more for others than for itself. This love toward others is the most powerful anointing that has been placed on us and in us.
Although the world has tried to mask all of this with different images, it is a fact that this deep yearning is imprinted inside of each of us directly from the personality of God.
Just be aware that it is not the spirit of St. Nicholas or Santa Claus that compels us to bless others this Christmas season. Instead it is the very Spirit of God that inspires us to help others in their time of need or just to spread the good cheer to others around us.
Now, that's a Merry Christmas!