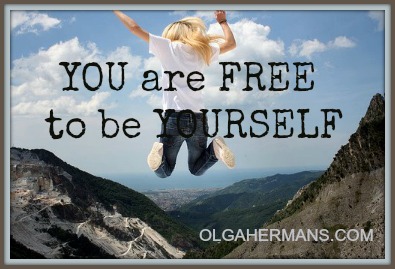 Dare To Be Real
by Olga Hermans
Have you ever wondered why people do the things they do or what causes them to behave in a certain way they do? What motivates them to achieve or accomplish things in life? These are some good questions and to answer them we have to look within.
Though many people think they might know themselves and others, we cannot see what is happening on the inside of them or us; in our soul where our will, our mind and our emotions reside or what is in our heart.
We may get to know others over the course of time in a very personal way as we share our experiences in life, our hopes and our dreams and maybe our secrets from time to time. But we will always have limited access, because in the end it is always God who can see within the soul.
It Takes Courage 
There are times that it really takes courage for us to look within ourselves and to see what is really going on; our hidden thoughts, desires and emotions that are tucked away but need to be dealt with. We might think or feel that most areas of our heart are perfectly fine.
But it really takes time to examine and reflect on the things we've experienced in life; we have to figure out how we really feel.
Life is a journey to be discovered and it brings a lot of change. As we go about to discover and uncover certain things about ourselves, we find out that we need to make adjustments in order to continue to grow and to become mature.
There is this continuous growth process and personal development that enables us and empowers us to be men and women of destiny and of purpose. When we discover who we really are we will experience that it liberates us to be free and to be the best at what we have been created to do here on this earth for God, for ourselves and for others.
Are You Willing To Look Within?
There is a quote from Oscar Wilde that I really like, it says: "Be yourself; everyone else is already taken." Or Ralph Waldo Emerson, who says: "Make the most of yourself….for that is all there is of you." I love quotes, you? The point is that we shouldn't try to become someone you are not. Be real. Be yourself.
Oftentimes, when we are not true to ourselves, we end up deceiving ourselves in an attempt to be someone we really aren't. We can get so caught up in the day to day interactions with other people and the things going on around us that, if we are not careful, we end up losing ourselves in the process.
Be Authentic
The key to being an authentic individual is having a pure heart and really knowing who you are, from the inside out. We are the sum of all the choices we have made in our life; the good, the bad and the ugly.
Everything that we have experienced from childhood to the present has helped to shape and mold our personalities and identities. My own experience that has definitely shaped me is that my parents passed on when I was twenty years old. This definitely has set me apart from many other people but also in a group of many people who have experienced the same.
Looking within may require us to face some real tough issues, but as we expose and uncover them, we allow God to do a work in us. Then the experience becomes a testimony to others of the goodness and the faithfulness of God.
Why We Do What We Do
Every issue in our life stems from what is within. This includes why we do the things we do. Whatever is in the inside will eventually be seen on the outside. Whether it is low self-esteem, pride, unforgiveness, appreciation, love, commitment, or some other underlying factors, they will determine our thoughts and our actions.
Pure Motives
It is within the heart that we can find the true reason or motive behind why we do what we do. People look at the outer appearance, God looks at our hearts. Many times in life we have to judge our hearts by asking questions like: Why do I do the things I do?
Am I going above and beyond my duties at work to simply be noticed, or because I am a diligent and dedicated worker? Do I help others just to be seen or for what I can get out of the deal, or am I doing it because it honors God? Doing right things for the wrong reasons, still doesn't make things right.
Guard Your Heart
When change occurs on the inside of our hearts, it causes a change on the outside. True change will happen from the inside out. We are instructed in Proverbs 4:23 to guard our hearts diligently. Guarding ourselves against negative talk and negative people helps us to keep our hearts guarded and free from contamination.
When we put the right things in our hearts, we will get the right results in our lives.
Are You The Real Deal?
When we have the courage to look within, it causes us to be honest with ourselves about who we are at the very core of our being and we can honestly answer questions like: what drives my actions? What causes me to behave a certain way? What are my motives?
What are the things that keep you moving in a positive direction?