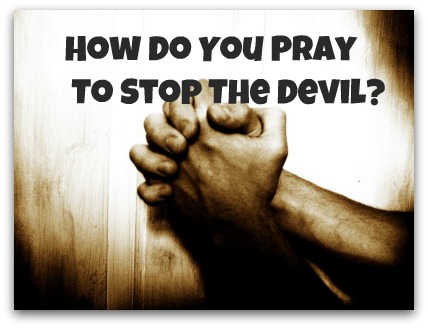 How To Pray To Stop The Devil?
by Olga Hermans
What do you think about when you hear that question? Do you think "it is too difficult" or "I don't want to fight with the devil"; what do think about when you need to fight the devil?
You know, you have been given the victory through the death of Jesus and His burial and resurrection over anything you will ever face. Maybe you are wondering how to see this happen in your own life and have no clue where to start. Maybe you started once and you gave up.
First things first; you must resist the devil in your daily walk, or James would not have mentioned it. The enemy has been conquered, but he still must be resisted.
The way to start resisting the devil is with submitting to the word. To submit to God means to surrender to Him, to yield yourself fully to Him, to come under His authority. To submit means to be a doer of the Word and not just a hearer. It means to believe, speak, and obey God's Word. Submission could be stated another way: Trust God in every way possible
Prayer that stops the devil is based upon believing, speaking and acting upon what God says. Submission is not only to the written Word Of God, but also to the spoken Word spoken under the submission of the Holy Spirit.
There are people who will not submit to God because they want to be under His authority. They have failed to realize that if you aren't under God's authority, you are under the devil's authority. There is no middle ground. People who are selfishly-ruled are satan-ruled.
To resist the enemy means to have an active, willful decision to say "no" to the devil with your heart, mind, words and attitude. Every time you invite the will of God to be done in your life, you are saying "no" to the devil. Every time you praise God, you are saying "no" to the devil. Every time you obey the Word of God, you are saying "no" to the devil. In other words, you are making positive choices that literally evict the enemy!
You are choosing the will, purpose and desires of God. When you resist the devil, he will flee from you. To pray to stop the devil, you must believe in the power of the blood of Jesus. Hebrews 10:16-19
We have boldness, confidence and liberty to enter into the holiest place through the blood of Jesus Christ. I have heard a former Satanic witch say once ad I think it was on the 700 club, "Whenever the blood of Jesus was mentioned, it stopped the power of Satanists."
It was the blood of Jesus that destroyed Satan's hold over you and me. It was His blood that ransomed us from Satan's authority. It was His blood on the cross that bought and paid for our total salvation, so when we come to God, we are coming through the blood of His Son. Every time we quote Romans 8:1, we are declaring the power of the blood of Jesus: There is therefore now no condemnation to them which are in Christ Jesus, who walk not after the flesh, but after the Spirit.
If you do not believe in the power of the blood of Jesus, you will not pray with authority. You will be reminded of what you've done in the past, of your failures and shortcomings, and as a result your prayers will be like a wet noodle. The devil knows when you don't know your authority.
It takes the blood of Jesus to free you of guilt and condemnation. It takes an understanding of the blood of Jesus to know your sins have been remitted. When you call on the blood of Jesus, you have immediate access to the heavenly Father.
To have prayer that stops the devil, you must approach the Father in the name of Jesus. John 16:23-24
God wants you to have fullness of joy. He doesn't want the enemy to overrun your life in any area. The Bible says that the shield of faith quenches every fiery dart of the wicked (Ephesians 6:16). David the psalmist declared, The Lord is my shepherd, I shall not want. Psalm 23:1
Jesus already won the victory that is sufficient to give us complete liberty from the devil's work in our lives, but we have to enter into the type of prayer that will stop him. That's believing prayer in the name of Jesus.
When we use the name of Jesus, we have used the highest name in heaven, on earth and under the earth. There is no other authority greater than the name of Jesus.
You and I have been given the power of attorney to use that name! Jesus was saying to His disciples and to you and me, "I am going away. I will send the Comforter [My Spirit] to you. Carry on business as usual, because I am giving you My name. I will never leave you. I will never abandon you. I will be with you always to the end of the world.
To pray to stop the devil, you must declare the Word of the Lord. Hebrews 4:12
Because the Word of God is a living entity, you can take it into your prayer closet. This is an aspect of prayer that many people have not entered into because they have not recognized the value of it. They pray, beg and plead, but they never come with the Word. If you will start your prayers with God's will, which is His Word, you will never pray amiss.
If you are approaching God for healing, come into agreement with His promises of healing in Isaiah 43:4-5; Matthew 8:17 and 1Peter 2:24. You can pray, "Father, I am coming to You through the blood of Jesus, in the name of Jesus and with Your Word. You put sickness and diseases upon Your Son, Jesus Christ, so I wouldn't have to bear it. By His stripes I am healed. Thank You for my healing now, in Jesus' name."
What are some experiences that you have had with resisting the devil? Give us one of your great testimonies in the comment section; thank you! Check out my book on prayer, that teaches you even so much more on how to be effective in prayer.
You can subscribe to The Daily Choice which is a SPIRITUAL Devotion that helps you to make the right choices in your life!