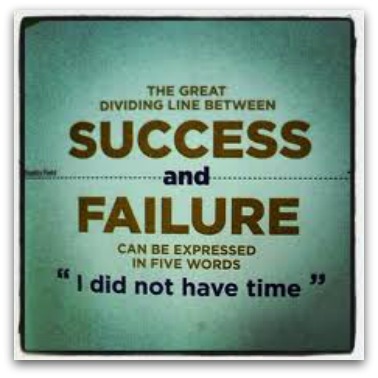 How To Make Time For Yourself

by Olga Hermans
Nowadays you can meet people almost every day that will tell you how busy they are and have no time for other things and under how much stress they are. I remember there was a time that we could ask people, "How are you doing?". The answer was almost always, "Fine." Now, almost everybody answers that same question with: "Busy," "Tired," or "Stressed." Have you experienced that? I have found myself telling people that I am busy and felt kind of cool with that answer and then I thought: I am not busy; I just think I am busy. I really need to make more time for myself and for other interesting things.
I told you that I made a choice to take time to exercise which I am starting to enjoy more and more. But I really know people who genuinely believe that being busy is a sign of success. They like to push themselves to the point of exhaustion and try to cram more and more activities into an already tight schedule.
It almost feels like a disease that is spreading all over the place, but then there are also people who are waking up and like to take more time for the more important things in life. We need to become aware that we don't need to spend every hour of the day doing "something" that we perceive as productive. It really can become unhealthy.
When we want to discover the life we were born to live, we need to try to enjoy the minutes that we live. My father was like that; he was so busy with building his business that he thought he didn't have any time to spend with us, his family. When he got close to 60, he started to make some different choices and started to plan his life a little different, but then it was too late. He died from a heavy heart attack and collapsed right on the spot. That was such a sad moment for all of us; we never knew him as our dad, we only knew him as the busy man behind his desk.
There is something that is called "margin" by Dr. Richard Swenson. This is a concept that is necessary in whatever you do; if you are a mom, you need it. If you are a businessperson, you need it. Everybody needs it. He gave this example to explain it:  if a person is flying from New York to Los Angeles with a change of planes in Dallas, would that person leave himself only five minutes to make the connection between two flights? I hope not!
No travel agent would ever allow such a connection. If the person did attempt a five-minute change, there would be a high probability that the person would miss the second leg of the flight. He would likely be very impatient, anxious, and frustrated for the first half of the trip, wondering if he was going to miss the second flight and eager to be the first off the plane in Dallas. The point is, such a traveler has not left sufficient "margin" for an enjoyable journey.
You got the picture right? Every time when I am in the car and my son is the driver, I think he is tailgating. I think there should be that margin of safety when we drive. He is not really that bad, but I rather am safer than he. If a person is tailgating a driver at sixty miles an hour in rush hour traffic, there is little margin for error! I really believe that it is a wise choice having sufficient "margin" in every area of life.
Nowhere in the Bible does it mention that Jesus was in a hurry; he always took the time to minister to everybody! He actually spoke against a "hurried" mindset. You remember while Jesus was visiting in the home of Martha and Mary, Martha was busy preparing and serving food to Jesus and those who were traveling with him. He was teaching. Martha became so frustrated that she was having to do all the kitchen work by herself that she said to Jesus, "Lord, don't you care that my sister has left me to serve alone? Tell her to come and help me."
Jesus replied, "Martha, Martha, you are worried and troubled about many things. But one thing is needed, and Mary has chosen that good part, which will not be taken away from her." Luke 10:38-41. Many people think that way, "If I don't do it, it just won't get done."
When we become too busy we lose our joy. People irritate us. We become frustrated, anxious and critical. We complain too much. We need to become a better manager of our time and sometimes make tough choices, but we need to practice keeping a healthy "margin" in our lives.
Here are 7 ways to reduce stress by organizing your time:
Buy a calendar and put the non-negotiable dates on there like birthdays, anniversaries, and the major events that you need to attend.

Organize your desk at work and at home; the place where you pay all your bills and so forth; you don't need to be looking for things that need to be done a few times a week.

Organize your kitchen. You don't need to be searching for items when you need to prepare a meal.

Don't pick up the nuisance phone calls; you know the ones that just want to sell something to you; unplug the phone during certain hours.

Make a to-do list each evening before you go to bed. This way you don't need to continue to mull things over in your mind all night.

There are so many things that you can do, but the most important thing that you need to do is spend time in the presence of the Lord; throw all your cares over to Him and just relax and enjoy your time with Him. Listen to Him and when He tells you to do something; do it!

There are things that can help you relax when you go through some stressful times, which we all do.

Stress-away

is one of the best things to use; you can reduce stress at any time, and anywhere with the convenience and portability of an essential oil roll-on. You just need to shake it well and apply it generously to wrists, neck, arms, or anywhere you love experiencing essential oils.
The question that you might need to ask yourself is this: "Have I allowed enough margin so I have enough time for what I am doing?"
You can subscribe to The Daily Choice which is a SPIRITUAL Devotion that helps you to make the right choices in your life!