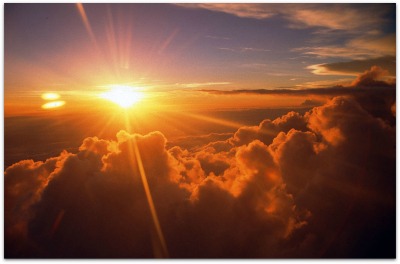 Today Is The Day – Now Is The Time
by Olga Hermans

I'd like to share one of my favorite scriptures with you today; I have quite a few and this one is certainly one of them.
Thou hast caused men to ride over our heads; we went through fire and through water: but thou broughtest us out into a wealthy place. Psalm 66:12 KJV
I took this translation because I like the fact that it speaks of a wealthy place.
God wants to bring you into that place, into your very own wealthy place in Him. You live in Him and you have your whole being in Him. You live in Him and He lives in you. When you are in that place, it will have an effect on all the areas of your life for the good.
God is a good God; He will not force you into that place but He will lead you and in some instances He will even go before you! Because He wants to lead you to that place, you have to learn how to find your wealthy place and then let God bring you there.
I have gone through some rough spots in my life and so have you most likely; I felt at times that I could hardly hold my head above the water and sometimes I felt that I was burned on every side. I remember a time that we were financially in a very tight spot and if somebody hadn't come in and paid the rent for us, we might have ended up on the streets.
I learned that it is God's perfect will for us that we come out of those places; we don't have to stay in those tight spots where we can hardly breathe.
God is a good God and He does NOTHING halfway. His intention is always to bring you out of something to bring you into something better. God brought the children of Israel out of the wilderness into the land flowing with milk and honey.
Have you ever been through the "fire and water" concerning money? There is a big chance that you have like many others and you even might have accepted it. But you know what; we have accepted some things that we should not have accepted.
Now you might be thinking that it is normal to be broke. Let me tell you this and I hope you believe it; it is not normal to be broke; it is abnormal. God has given us this promise in Psalm 102:13 He is telling us to ARISE. This is time to arise to the favor of the Lord.
This is the time for you to realize that you are in a covenant with God and that He has provided everything for you in Christ. He has a plan and a purpose for you; His design for you and me is to be wealthy.
If you don't know how His covenant works; you probably will think that the prosperity message is a message for the greedy, lazy bunch and you don't want it. But God providing for your every need is to bring Him Glory; God wants to show the world how well He takes care of you and me.
Do you remember what He did for Ruth? At the time that her husband died, she wanted to stay with her mother-in-law. The next thing that happens is that she meets Boaz who is a wealthy business man and eventually marries him. One minute Ruth was broke and the next minute so to speak she is living in a palace.
Ruth was very faithful; she took care of God's business by staying with her mother in law and God blessed her tremendously as a result. When you know what God's will is for you and you give Him 1st place in your life by developing a personal relationship with Him, you are putting yourself in a position to be blessed by Him.
How many are there that have no clue that there is a wealthy place in God that He wants to bring them into. As Abraham's seed and heir of the world you have the power to get wealth in every form like wisdom and faith, revelation knowledge and the anointing for increase, gifts and fruit of the Spirit; creative ideas, concepts and insights; houses, land, businesses, contracts, favor, jobs, promotions, inheritance, debt cancellation, transportation vehicles and so much more.
You have to exercise diligence, for the hand of the diligent makes rich. Today God's grace is abounding toward you and your family with a bountiful harvest from all the seed that you have ever sown.
We all need more understanding of the will of the Lord. The 23rd Psalm tells us that the Lord is our shepherd and that we shall not want. Psalm 23:5 tells us that our cup will run over. I believe that when God did it for David, He'll do it for you and me!
Psalm 66:12 talks about that wealthy place in God. One more time, He doesn't only want to bring you out; He also wants to bring you in a much better place. When you got saved, you were "brought out" of the Kingdom of darkness. God doesn't want to stop there. He wants to bring you into a wealthy place too. Receive it by yielding to His will.
Today is Your day! Now Is The Time!