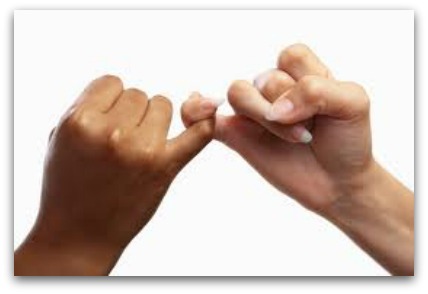 God Promises To Keep His Promises
by Olga Hermans
Have you ever heard someone say that promises are made to be broken? Have you ever experienced that people broke a promise to you? Maybe right now you feel like your life is broken because somebody broke a promise to you. If you've had any of these experiences, it may be difficult for you to believe that God will keep His promises. However, God has never broken a promise and He never will!
Have you ever felt that God might keep His promises to others but He would never do it for you? Or that He might keep His promises some times but not other times for some mysterious reason? Whatever your experience has been, or whatever you may think, I want to tell you that God's Word is the most certain thing in the world.
There are thousands of promises in the Word of God, and He declares strongly that He will fulfill each and every one of them. I like to say it this way: God promises to keep His promises. Every promise in the Bible is a gift to us wrapped in love. I can assure you that He hasn't changed His mind about any of His gifts. James 1:17
Although God has the ability and the desire to bring every promise to come to pass in our lives, we each must individually appropriate the promises by faith. It is always faith that moves God into action on our behalf. It is a fact that when we mix faith with the promise, we receive what we ask for. Rom.10:17
You can see every promise as if you would set a goal and each promise holds the potential to come into existence; isn't that awesome? That way you can use God's Word as a "road map" for your life; and when you take hold of the promises in the Word, the Holy Spirit supplies the energy to travel that road without failure.
Do you know anybody that did this? Our great example for this is Abraham. He followed the book of God's Word as a map. He had been busy following his own map when one day the Lord spoke to him and gave him a different direction. That was the moment that Abraham yielded to the Lord and planned every day of his life in accordance with the promises which the Lord had given to him.
Abraham lived in a land of idol worshipers and didn't know the true and living God, but when God spoke to him, Abraham obeyed and changed the direction of his life. Didn't you do that when God spoke to you, when the Holy Spirit wooed you to into the direction of God? Sure, you did; that is how you got saved.
I remember as if it were yesterday when the Lord tapped me on my shoulder to leave Amsterdam. I was living in the world, more at night than during the day. I don't have to tell you what I was doing, because everybody knows that Amsterdam is famous for all the wrong things. But here I was, 21 years of age, my parents had died within 2 years from each other and I decided to go and live my life in Amsterdam.
My life was going down the drain quite fast. I had a friend; (my husband's sister), who had a younger brother. I always had liked him because of his morals and values, he always stood out to me for that reason but he was 2 years younger than I. But this one particular night, I was sitting at my desk and I had the impression to leave Amsterdam and go to Canada, where he was living at the time. That is what I did, and within 2 weeks I was in Canada. Although that was a whole story in itself (a beautiful love story), I just want to point out right now that I thank God that I obeyed this inclination and decided to change my life and from then on God was able to direct my steps.
Just like Abraham who stepped into the unknown, I stepped into the unknown. Leaving Amsterdam behind me for a much better way of living, I loved the prairie at that moment. People thought I had lost my mind. How could it be that a person leaves the wild lifestyle from Amsterdam to work on a tractor on the prairies of Alberta? Only God can do that!
Let's get back to Abraham; he was no more perfect than you and I are; he made mistakes, but he always got back on course. That is what we should do.
Do you have unfulfilled dreams? Haven't you discovered the life you were born to live yet? Are there plans you won't make because you can't see how they could ever come true? Your life is all about making the right choices and decisions. Look at Abraham and Sarah; they left a comfortable environment to follow God.
What God has done for anyone else, He will do for you. God created you and He has a plan for your life and He wants you to discover it and ignite it with passion. He has a plan that will bring blessing and satisfaction. God's way is always the best way, and God has expressed that way in His Word and His promises.
You can subscribe to The Daily Choice which is a SPIRITUAL Devotion that helps you to make the right choices in your life!