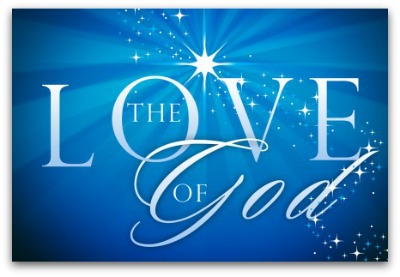 Let The Love of God Out Of The Box
by Olga Hermans
To know the love of God is to know His fullness. The Apostle Paul believed it was possible for born-again children of God to be filled with His fullness. He had confidence in God's ability to do (by the mighty power of the Holy Spirit who works within us) more than our brains could even imagine.
Paul knew by divine revelation that God is truly able to glorify Himself through us! So how do we get the fullness of God?  Ephesians 3:17-20 tells us exactly how to get filled with the fullness of God. We do it by becoming rooted and grounded in His love. We do it by developing such an intimate knowledge and experience of God's love that we begin to comprehend the full extent of it.
Since He is love, when we comprehend and live completely in love we actually reveal God in His fullness.
The full comprehension of God's love doesn't just fall on us. It must grow up within us. And like anything that grows, it must start with a seed. That seed is the simple New Testament command of love found in Matthew 22, "Thou shalt love the Lord thy God with all thy heart, and with all thy soul, and with all thy mind. And thou shalt love thy neighbour as thyself" (vv. 37, 39).
As we meditate on this, confess it and align our lives with it, that command begins to take root in our minds and hearts. If we stick with it, eventually we will become so grounded in the commandment of love that we'll judge our whole lives by it.
When that happens, if somebody says something ugly to us, for example, instead of lashing out at them, start searching for a way to keep the commandment and respond to them in love.
The more we practice yielding to love, the stronger our revelation of God's love grows. Our comprehension of it increases and as a result, our lives are increasingly filled with the fullness of God.
The more we practice obeying the commandment of love, the more rooted and grounded in love we'll become. Before long, walking in love won't even seem like a commandment anymore. It will become a privilege, an honor and a joy. We won't desire to live any other way. The seed of love will be growing up within us. We'll become rooted and grounded in it. We'll begin to truly comprehend the love of God…and the God of love.
If you'll keep on walking in love, every day as you step out your front door, you will be overflowing a little more with the presence of the Lord. Every day you'll be living more of the life you are called and divinely designed to live—a life that is filled with all the fullness of God!
Google the word "love" and you'll get 8,930,000,000 results – that's nearly 9 billion hits! There is so much information on love, yet many have no concept of true love, God's love…supernatural love.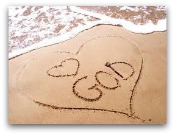 What is supernatural love?
Supernatural love is above and beyond the capability of human character. Supernatural love is extended to us by God and flows through us to our fellow man. Anything with the label "supernatural" sounds difficult to define or identify. How do we know that we receive and give supernatural love?
How do I know I have it?
The Bible tells us the love of God has been shed abroad in our hearts by the Holy Spirit (Rom. 5:5). To love people unconditionally takes a supernatural kind of love! But praise God; we have the love of God residing in us. Actions follow beliefs.
It is only through our relationship with the Lord that this supernatural love will flow through us back to the Father and to others.
Why is supernatural love so important?
We are commanded to be imitators of God. God doesn't love. God IS love – God's nature is so overwhelmingly love that He is love.
What is the model for supernatural love?
Picture Jesus' last supper with His disciples. Even then Jesus knew God's plan was for Him to be tortured and crucified. He knew that Judas was going to betray Him and yet still released him to do so. Jesus knew every detail of the plan, yet He followed through with it because of his supernatural love for the Father and for us. How do we know if we're operating in supernatural love?
How do I show supernatural love?
Supernatural love is seen in our love of God and our love of man. We make a choice to spend time with the Father, just as Jesus did. Supernatural love for one another is described in 1 Peter 1:22 which tells us "Seeing ye have purified your souls in obeying the truth through the Spirit unto unfeigned love of the brethren, see that ye love one another with a pure heart fervently (KJV)." Unfeigned love means real, sincere, not counterfeit or hypocritical love. What are some of the blessings that come to us through God's love?
How do I benefit from God's supernatural love?
We are beneficiaries of all the works that Jesus did on the cross. It's by faith we receive what Jesus did for us in His body upon the cross, and it's by faith that we give Him the burdens we carry. Our sins are forgiven and we declare that our bodies are whole and healthy because of the pain He endured for us. There are no words to thank Him for what He did on the cross. Two thousand years later, His Blood is still full of power and we can apply it to every situation and expect change; there are no limitations! How do I show God's supernatural love to others?
How do I benefit others through supernatural love?
Being the messenger's of Jesus' love to mankind, we want to be lovers of God and to walk in love with all men. We ask Him for a fresh desire to extend love to the lost-those that do not know Him. We petition Him for opportunities to minister His love to make us bolder witnesses for Him. His heart is for all men to experience His love and He has chosen to send it throughout the world through you and me.
Supernatural love is a gift of God and we choose the extent to which it manifests in our love of God and our fellow man. If we are striving to be imitators of God, we will be full of love and continually ask God to help us love more.
You can subscribe to The Daily Choice which brings an encouraging message 5 days a week to your inbox by clicking here