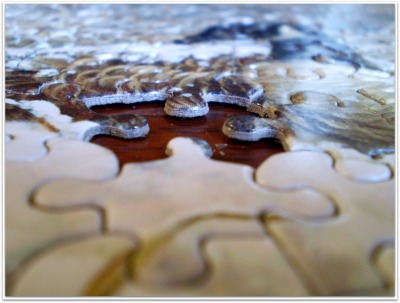 The Missing Element in Your Life
by Olga Hermans
As I was thinking about what to write today, I kept thinking of  why Jesus came to this earth. We all know that He came to save us, to give us a new life, and to restore our relationship with God again; we all know that. But we have to realize that He came to give us abundant life and that we can live in the full blessing; we forget the key element why He came that changes our life for good. 
These can be the best of times and these can be the worst of times, but for those who are in the household of faith, everything is going to be all-right! And to be in the household of faith, you have to read the Word of God.
We are living in extraordinary days and while we are moving toward the end of 2011 to enter 2012, I thought it would be great to talk about this key element. Let me know what you think by making a comment!
I want to show you something that might be missing in your life that is key to your discovery of the life you were born to live.
You had no idea of any of this, didn't know the first thing about the way God works, hadn't the faintest idea of Christ. You knew nothing of that rich history of God's covenants and promises in Israel, hadn't a clue about what God was doing in the world at large. Now because of Christ–dying that death, shedding that blood–you who were once out of it altogether are IN ON EVERYTHING Eph 2:12-13 The Message Thank You JESUS!!
There are people right now that are experiencing challenging times and financial pressure in their lives. Sometimes when people get under pressure they try to figure it out on their own; they are trying to figure out how to supply their own need. Under the pressure they forget to include the key element; they forget the help of the Holy Spirit. They forget to include what I believe is a key element, that would completely alter their situation.
What happens when you leave out a key element? I, myself am not a very good cook. But when you are cooking something and you leave out a key element of the recipe, it wouldn't turn out so well, would it? It wouldn't taste the same because you don't have all the ingredients.
Many times when we get under pressure, we try to figure it out ourselves; we try to figure it out on paper how we can get out of our financial situation. But the key element that I believe that people miss is THE ANOINTING. There was a time that you were without Christ, you didn't know the first thing about the way God works, hadn't the faintest idea of Christ. But NOW you are IN CHRIST.
The anointing means the burden removing, yoke destroying power of God. If you want to know more about the anointing, I would recommend  reading a book about it, so you know what to expect from the anointing. It changes everything!
The word CHRIST means THE ANOINTED ONE and His ANOINTING. You need to know how to factor the anointing in your life, because there is no hope without it, whatever the problem is.
Whenever you come to a financial challenge in your life, don't forget to factor in the anointing! You factor in what God says about your situation, you factor in the truth on your situation and that destroys the yoke and removes the burden from your shoulders. The anointing will change the natural by the power of the supernatural.
Luke 4:18-19: The Spirit of the Lord is upon me, because he hath anointed me to preach the gospel to the poor; (You don't have to be poor any more) he hath sent me to heal the brokenhearted, to preach deliverance to the captives, and recovering of sight to the blind, to set at liberty them that are bruised, to preach the acceptable year of the Lord.. And then He said in verse 21 "You've just heard Scripture make history. It came true just now in this place."
Jesus is talking about the poor! People who don't have enough money are broken-hearted. People, that are under the bondage of debt are in captivity. When people are under spiritual or natural pressure, they can't see the next day. Pressure is all around them.
That acceptable year of the Lord was the year of jubilee. Jesus was anointed to preach the gospel to the poor, that they didn't have to be poor anymore and they would be released by the power of that anointing. That was the year of the jubilee and we live in the jubilee.
Jesus said in verse 21 This day is this scripture fulfilled in your ears. So, with Jesus preaching that the poor don't have to be poor anymore is for us today! But you have factor the anointing of God. Don't forget to apply the anointing of God into your financial situation, which is the power of God. Debt is a burden, that needs to be removed and destroyed for good.
Isaiah 10:27 tells us what the anointing is. And it shall come to pass in that day, that his burden shall be taken away from off your shoulder, and his yoke from off your neck, and the yoke shall be destroyed because of the anointing.
Practically speaking, what does that Anointing of God on flesh do for us? According to Isaiah 10:27, it destroys the yoke of bondage. It is the burden removing, yoke destroying power of God. It is the power of God that removes the burden of lack, sickness and disease. It is the power of God that destroys the yoke of debt. It is God's "super" abundance added to our "natural" situation.
It is the power of God poured on us, smeared on us, rubbed into us and into our lives. You could say it this way: the anointing for prosperity is God's provision poured over us, smeared on us and rubbed into our financial lives. The Anointing of God is the power of God on our flesh doing those things only God can do. It is God's power on our flesh doing what our flesh doesn't have the ability to do.
That's why you can have hope in the most hopeless situations. It doesn't matter who you are or what color your skin is. It doesn't matter if you never made it past the sixth grade. You can break out of that hopeless situation if you'll apply the anointing to your life.
I want to strongly advise you to begin factoring in the anointing on your life from now on and especially this new year. If someone tells you that you cannot do a certain thing or that you cannot succeed. You can't expect to prosper. Ask yourself this question: "Is there a yoke holding me back?" Then you know that the anointing will destroy it!
The anointing changes everything! It's that easy! It is God's provision poured over you. It is an essential element in your life. The anointing will make a way where is no way. The anointing will restore your marriage and your relationship with your children. The anointing will give a promotion on your job. The anointing of God will reveal the wisdom you need to thrive and not just survive in these times.
You can subscribe to The Daily Choice which brings an encouraging message 5 days a week to your inbox by clicking here