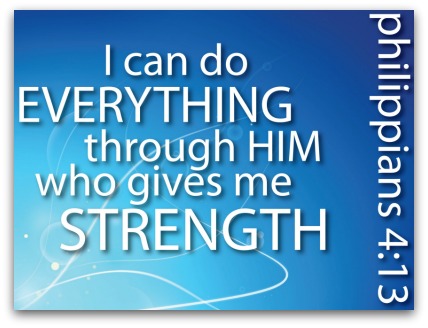 You Can Do It
by Olga Hermans
Hi everybody! I am in a group on Facebook which is called "You Can Do It"; it is a Social Media group with Kim Garst. She called it this way, because many of us still think that there are so many things that we can't do. BUT!!! The truth is that we can do ALL things through Christ who strengthens us, which means that we are anointed to do ALL things that come our way.

I love the way the Message Bible brings it across to us "Whatever I have, wherever I am, I can make it through anything in the One who makes me who I am". Php 4:13. You need to know that you can do whatever you need to do in life through Christ, which is the anointing on your life. In other words, when you like to discover the life you were born to live, you can handle whatever life hands to you.

People have taken this verse so much out of context that they don't think about the real meaning any more. It does not mean that I can do anything I want to do, or that I can do anything someone else does. It means that I am able to do whatever God assigns to you and me, because I am gifted that way.

I wonder, do you believe you can do whatever you need to do in life? Or are there certain things that trigger dread, fear, or cause you to say, I could never do that!" when you think about them? Are you facing a serious unexpected illness or maybe a sudden death of a loved one, or maybe you need to go on a strict diet because your life depends on it like my friend Carl? Or maybe you are getting a second job because of a foreclosure or moving to a different country because of your husband's job. What about if your husband would leave the country because of the army?

Most people have some kind of circumstance that they think is totally impossible for them; something that they aren't sure of they can handle. But the fact of the matter is, while you might not welcome certain situations in your life or they seem too difficult and too out of reach for you; you need to know that you can do it!! You can do whatever you need to do in life.

God guarantees us the strength for everything we need to do because He Himself empowers us to do it. Let me give you a little secret here; we cannot do anything we want to do because we are strong enough, smart enough, or hard working enough. That's not it. In fact, it leaves no room at all for our human effort or striving of any kind. The secret to being able to do what we need to do is realizing that we cannot do it alone.

For some reason, we often fail to use our faith to believe and act on that truth. Instead, we think we have to do it all and, forgetting that the power of Christ (the anointing) works through us, we are defeated before we even begin.

So many people say things like, "This is too hard. I just can't do this. It's too much for me." Nothing is too difficult for you if God is leading you to do it. Stir up that passion that is on the inside of you, come out of your comfort zone and make steps to do it. You'll see that everything will get easier and easier with every step that you take.
For example, I know that God wants me to take care of my body. I need to eat well and I need to do some exercise as well. I am a T-Tapper, but there are days that I don't want to T-Tapp, I don't feel like it and I know that my body doesn't want to do it. So, I need to stir myself up and become as passionate as possible to do those exercises. Everybody who knows Teresa Tapp knows that she ALWAYS says: "YES, YOU CAN!"  whatever it is for you, keep telling yourself "You can do it though Christ who infuses you with strength". Ampl.
Our attitude towards unpleasant things is a vital part for going through them successfully. God always uses things for our spiritual growth. Another example, He may use a grumpy person to help us become more patient. God did not cause the person to be grumpy, but neither does He remove them from our life when we would ask Him to do that. Instead, He uses them to change us.

Remember, God is always after our heart, our motives for why we want certain things, and the reason why we do certain things. Actually, most of our trials in life are the result of someone else's failure and ignorance or sin and, of course we pray for God to change them. Our prayers open the door for God to work in that particular situation, but God will never go against the free will of people to answer a prayer.

I like to encourage you today to fill up your heart with faith-filled reasons that you can do what you need to do. Stop looking at all your weaknesses because you can do it in the anointing that has been given to you.
Always remember that apart from Jesus you can do nothing. John 15:5, but in Him you can do it. Phil.4:13

Which "I cannot do that" belief in your life do you need to exchange for an "I can"? That is what The Choice Driven Life is all about!!
You can subscribe to The Daily Choice which is a SPIRITUAL Devotion that helps you to make the right choices in your life!