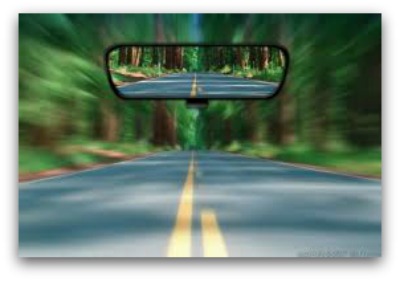 What Does the Holy Spirit Want to Show You
About Your Future?
by Olga Hermans
For several years I worked in the office of our bible school. One day, the office was full of people coming and going. There was an air of excitement, and everyone was chatting and laughing. Suddenly, a man in the middle of a walkie-talkie conversation came into the office. Even in the midst of the ongoing commotion of the office and static of the walkie-talkie, I recognized my husband's voice on the other end of the walkie-talkie. I know my husband and I know his voice. That's exactly how Christians should be attuned to hearing the voice of the Holy Spirit and receiving His ongoing guidance and direction.

Our future doesn't need to be a mystery to us, if we remain connected to the Holy Spirit. He knows everything that is ahead of us. Jesus promised that the Spirit of the Truth, our Friend, would come and take us by the hand and guide us into all truth, telling us only what he has heard from God. He will order our steps, preparing us for what is to come.

How long has it been since you made the effort to sit down and be quiet, focusing all your thoughts toward the Father? It requires discipline to direct your thoughts toward God and ignore the random things that pop into your mind. You can be listening to God with one ear, as your mind makes a grocery list!

If we really want to hear from God, we need to focus on God, and only God, with everything that is within us. This will open our spiritual ears to hear what God has to say about our futures.

We know that God has a plan for us, a plan that is for our good. We also know that the Holy Spirit guides us into all truth (John 16:13). God knows that we need help to discern His plan for us, so He sent the Holy Spirit to dwell inside every Christian. The Holy Spirit is our Guide, our Teacher of Truth, our Counselor, and our Helper. He is also our Comforter.

God is not a respecter of persons, and He promises that we all are able to hear from God and experience the help of the Holy Spirit. He is always speaking to us, but we strain to recognize His voice because we are not familiar with it. We learn to recognize His voice in those moments that we are quiet before Him, patiently waiting.

Do you want guidance? Then be sensitive to the things that the Holy Spirit wants to show you, and then do as He says. As you learn to recognize God's voice, you will know what to do. You will begin to act in faith as you experience the Spirit's tug at your heart, or get an "inkling" or "knowing" about something to come.

I regularly watch the 700 Club. One of my favourite segments of the show is the testimonies of people who were Spirit-led to do something outside of their normal routines. For example, the person who is inexplicably compelled to drive a different route to work, only to discover that he missed a 10-car pile-up. Or the World Trade Center worker who sensed an inner witness to report to work late on 9/11. The Holy Spirit was protecting these people, guiding them away from danger.

The Holy Spirit has also given people hunches about making investments, and they have been supernaturally financially blessed by following through on His leading. It's amazing to think of all the ways God wants to prepare us for our futures. But we must trust Him, step-by-step, to cover the big picture.

One of the ministries of the Holy Spirit is to guide and lead us into God's will for each of our lives. I believe that we can release His plan for us by believing that He will let us know what to do in His perfect timing. We need discernment to do that, not mere head knowledge.
1Cor.2:14-16 tells us plainly that the natural man does not understand the spiritual man. Your spirit knows things that your head doesn't know!

Because satan doesn't want you to learn how to operate in the spiritual realm, he works hard to bring deception concerning these things. As a result, many people are actually afraid to believe that they can hear from God. They choose to remain in spiritual darkness rather than taking a chance on making a mistake.

Making mistakes is not the end of the world, but not learning from our mistakes is far more serious. We learn from life's experiences as well as from the Word. Don't be afraid of making a mistake. Be a person who has a pioneering spirit and is willing to learn.

God doesn't always give the whole scoop of everything that we want to know, but He gives us enough information to make progress toward our destiny. He speaks in a still small voice. So I encourage you to seek God about your future. Focus on Him alone, listen and obey the leading of the Holy Spirit.
You can subscribe to The Daily Choice which brings an encouraging message 5 days a week to your inbox by clicking here