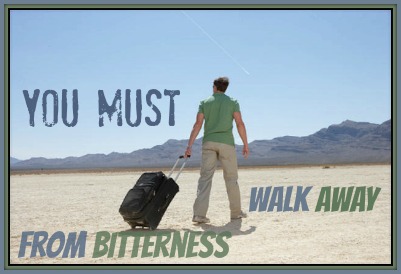 5 Tips for You to Walk Away from Bitterness
It is amazing to me the stories I have heard lately of so many people that are going through situations that are just really heartbreaking to me. Of course we need time to get our life together after a situation that shakes us at the core of our being. But then again, we also need to know that we cannot get bitter; we need to get up and get moving forward again.
I know people who get bitter and become so buried in their grief that they never get beyond the experience. They hold on to it for years. Some turn their backs on God, the church and the people who love them because they are angry and bitter or afraid to love again. I know the time when both of my parents died within two years in my late teen years; I was in shock and I almost thought I wasn't able to make it.
But then the moment came that I knew I had to take control of my emotions to prevent them from ruining my life. Many times, if we're not careful we can prevent a breakthrough from occurring by having the wrong attitude. Granted, it's hard and the situation may be unimaginable that you're facing. We are emotional beings and it is very difficult for us to press though those emotions.
When things don't go as planned and people hurt or disappoint us, it's hard to see the light at the end of the tunnel. This is the time we must dig into the Word and stay close to God. Hanging around positive people and listening to positive music and messages can be of great help regardless of what is going on in our lives. Keeping a positive outlook and not get bitter, but get better should be a way of life.
Here are 5 tips to help you avoid or overcome bitterness:
1. Replace your complaining friends with positive ones
Look at your circle of friends. Who's there? If you have friend who is always talking bad about their husband or telling you what you should do, it's time to make a change. If you're hearing things like, "I'm sick of my husband/parents. He's/they are no good" Or if you have dreams that you want to accomplish and the friends around you say, "Give it up. You're too old for that now. You should have done that, years ago." Time to move on, they should support your dreams.
2. Replace fault-finding and complaining with thankfulness
Be thankful to God. I'm not suggesting that you thank Him for a bad situation or difficult experience, but thank Him in the midst of it. God is your heavenly Father. There is no one like Him. He will work things out for you if you live a life of faith and trust Him.
The fact that God is in your life means that you have far more working for you than against you. Thank Him daily and expect good things to happen. Your breakthrough is right around the corner. The Bible says we should do all things without complaining so that we will be blameless Phil.2:14-15
3. Don't feed off negative sources
We must learn to make a choice to fix our minds on good things. Surround yourself with people who are good for you and have your best interest at heart. If you have been bombarded with negative messages, make the change.
4. Commit to developing your spiritual walk
Attend church regularly. God wants us to surround ourselves with people who have similar thoughts and values to our own. He also encourages us to assemble with Christians regularly so that we may uplift each other. Prayer and meditating on the Word is also important. Get in a quiet place daily and talk to God. Listen as He speaks to your heart throughout the day.
5. Watch what you say
Words have power. So choose them carefully. If you want positive results, you've got to have positive communication. If you want negative results, complain and continue to talk about the things you don't want in your life. Either way it's a choice. I encourage you to choose that which is positive.
Avoid quarreling, fighting, and gossiping. This type of communication produces strife and hinders every blessing. Instead say good things. Learn to agree or to agree to disagree and don't take part in negative talk about anyone. Choose the high road. You'll be glad you did.
Staying positive in a negative world is not easy, but it can be done. In fact, it must be done if we want our faith to continually increase. To live a positive life, we must intentionally focus our attention on good things.
What makes it difficult for you to focus on the positive rather than on the negative? What are some specific things about God on which you choose to focus your attention?
You can subscribe to The Daily Choice which is a SPIRITUAL Devotion that helps you to make the right choices in your life by clicking here