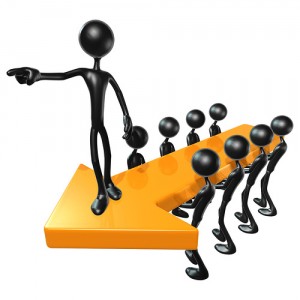 Yes You Can Be In Charge Of Your Life
by Olga Hermans
When it comes to a new year, people of faith generally talk about what God is going to do. This year, however, I challenge you to put the responsibility on what you, as an individual, are going to do. God already has His part worked out; He is faithful. I believe that this is a year of transition, decision and especially restoration. Make sure you are properly focused on what you need to do and think on this year.
Ask yourself what you want to do with the rest of your life. The decision you make, based on this question alone, will determine the quality of life you will experience. If you make a quality decision, your life will gain quality.
Think about it for a moment. Will you sit around waiting for someone else to change your life? Will you continue to live in bitterness and unforgiveness because of the things that have happened in your past? Will you allow your personal limitations to keep you from experiencing God's best? What will you do? Take the time to search deep within yourself for the answers to these questions.  Make a decision. And when you're ready, begin the transformation process. How you live your life from this day forward is entirely up to you.
Nobody can make decisions for you, that is something that you need to do yourself! Let me give you an eye-opener: nobody can take your life away from you. God gives you the opportunity to decide how you want to move forward. These are not one-time decisions; these are daily decisions about how you are going to live.
Therefore doth my father love me because I lay down my life that I might take it again. No man taketh it from me, but I lay it down of myself. I have power to lay it down, and I have power to take it again. This commandment have I received of my Father.
Jesus is telling us in John 10:17-18 that no man, and no devil in hell, could take His life. He and He alone had the power to lay down His life and the power to take it back up again. That same power, that same authority also lives in you. No man can take your life from you; no demon in hell can take your life from you, lest you lay it down. You have control over your life, and either you lay your life down, or it doesn't get laid down.
That is powerful; it doesn't only apply to your physical body; it applies to every realm of life. Nobody can take your future, lest you lay it down. Nobody can steal your joy, lest you lay it down. Poverty has no right in your life, because your prosperity is part of your covenant with God. Nobody can take your marriage away from you, until you let them do it. You are in charge of your own life; how you live your life is entirely up to you.
I am not saying that you won't have any attacks or that you will live without tests, trials, and temptations. When you look at the life of Jesus, you can see that people were out to kill Him. The devil tried to kill Him in the wilderness, but Jesus made a quality choice not to lay His future down. He exercised His authority; nobody could take His future away from Him.
We have to make that same choice, when sickness tries to attack your body, you have to exercise your authority and make a choice to claim your healing.
The apostle Paul understood that he had the authority and the power to give up his life. Multiple times throughout the Scriptures, we see where he was left for dead, yet he chose to take up his life. Philippians 1:19-24
You and I have to make the same choice; it's up to us! In Deuteronomy 30:19 God says, "I call heaven and earth to record this day against you, that I have set before you life and death, blessing and cursing: therefore choose life, that both thou and thy seed may live." We have to make our own choice between life and death or blessing and cursing.
Some people really think that God allows all the destruction to take place in our life while all our friends are blessed. If we believe this we get into that victim mentality. No, God called upon heaven and earth to record this very fact—He has set before you a choice, life or death. And the record will show that God not only gives you the choice, He gives you the answer—choose life!
Every day life presents to you choices, and in each you have the opportunity to choose life (abundant life, blessings), or you can choose death (destruction, despair). When temptation comes, you have to make a choice, either you consider the temptation and please your flesh or you pick up your authority and choose to deal with that temptation as God shows us in His Word.
You see, when you choose to rule your life contrary to the Word of God, you let your life go. It's like lowering the drawbridge on a castle. What was once so protected is now vulnerable to the enemy. Over time, the enemy will continue to gain access through that opening, and you could lose the whole fortress.
I can tell you how you can constantly choose life, you probably know it as well. Proverbs 18: 21 says, Death and Life are in the power of the tongue and they that love it shall eat the fruit thereof. The only way we make the choice to choose life is to say something.
When you find yourself in a trial or a temptation, you have to speak up and say, "I choose life." The moment you do that, power is released to back you up and heaven is right there to your side to help you fulfill the choice you just made.
Make sure you are properly focused on what you need to do, because you have the authority and the power over what happens in your life…you! Satan can attack you, but you choose life and you will not loose your life. Nobody can override your choices. Neither God nor Satan will make you choose something. You are responsible to choose things for yourself.
I don't know what you are going through; maybe your mind is attacked with rejection or depression. Maybe your kids are acting up, or you let strife creep up in your marriage, or you're stressed because of financial problems; it all can change today! All you need to do is make a choice to pick up your authority again.
Repent from it if you have to; it's really easy. It's just a choice. Instead of choosing to not do anything, you can choose to pick it back up again. The devil can't keep you down! Today–choose life and blessing.
You can subscribe to The Daily Choice which brings an encouraging message 5 days a week to your inbox by clicking here