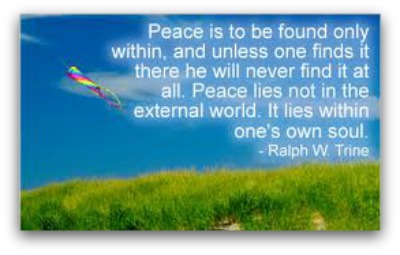 Success begins on the inside
by Olga Hermans
How many times have you heard that success starts on the inside? Probably many, many times because it is true! Success begins on the inside, it begins in our heart. Do you like to read the Psalms? I do, and I also like to read Proverbs.

Psalms 120-134 give us great principles for success and promotion in life. King David wrote these Psalms and He has proven that these principles worked his own life. It doesn't matter what you are, whether you are a mommy or a daddy; a pastor, a clerk, teacher or maybe a leader is some way or form. These principles work every time.

I am looking forward to meet David; he did many things wrong, but he had a very special place in the heart of God. He was promoted and he was famous; he had a great character and knew how to honor people.

He had made a terrible mistake with Bathsheba and a lot of other sins, but he was still called "a man after God's own heart" Acts 13:22. How can that be? Do you want to know? I hope you do!

David knew a secret. The Bible tells us: "Man looketh on the outward appearance, but God looketh on the heart" 1 Sam. 16:7. God judges us by our heart; He doesn't judge us by our actions "IF" we repent.

If it is all up to God, He would rather have our actions to be wrong and our heart be right, than our heart to be wrong and our actions right. I like that choice!! God rebuked many people in the Old Testament because they had hardened their heart.

The people said they loved the Lord with their lips and actions, but their hearts were far from Him, Isa. 29:13. But David was different; he kept his heart pure for God. He was quick to repent and seek the face of God. God chastened him many times because of his sins, but David always came back stronger than ever and became a better man and a better king than before.

David knew that sin begins with the thoughts you allow in your heart and not with what we do. If you keep a pure heart, you will keep your heart pure. Solomon was David's son who wrote most of proverbs; he said:
Keep vigilant watch over your heart; that's where life starts. Don't talk out of both sides of your mouth; avoid careless banter, white lies, and gossip. Keep your eyes straight ahead; ignore all sideshow distractions. Watch your step, and the road will stretch out smooth before you. Look neither right nor left; leave evil in the dust. Prov. 4:23-27 Msg.
You see, what most people don't realize is that our mouth, eyes and hands are controlled by our heart. If our heart is pure, it is easier to keep our tongue from sinning and keep our actions on the right track.

David was a man that wanted to please God; not only did he keep his heart pure, he also kept it free from pride. We can read his thoughts about pride in Psalm 131:1 – MY heart is not haughty, nor my eyes lofty; neither do I exercise myself in matters too great or in things too wonderful for me. Ampl.

We don't need to be arrogant, we don't need a blown up self-esteem. We all know what happened to Lucifer; arrogance is the very source of the original sin of Lucifer Isa. 14:12-14, Ezek. 28:16 and the source of all our personal sin. Proverbs 16:18 says, "First pride, then the fall– the bigger the ego, the harder the crash."

An arrogant, prideful person feels they must always prove to everyone that they are better than others. They try to control every conversation and situation. They don't want to recognize their own weaknesses and certainly not the strengths of others.

They don't want to be taught themselves; but they want to show everybody else how they can do their job better. They think that are the best gift to the whole world. Arrogance is the one disease that makes everybody sick except the one who has it!

Then there are the people who are so confident and who are truly secure and know that God is their source. The self-confident person is the enemy of the arrogant person; they don't understand someone who is willing to let everyone be themselves and have their eccentricities.

The arrogant and the confident travel two very different roads to success. Arrogant people will always try to work every situation for their own benefit. They have no respect whatsoever for authority because they are convinced that they would do a lot better. They lie often times about the ones in authority; they will always try to work both sides for their good.

We need to know where our happiness comes from; it doesn't come from things like cheating and lying, being deceitful and stabbing other people's back.

David was happy while watching over his father's sheep, he was happy when he lived in a cave hiding for Saul and the armies of Israel. He was confident in God; he knew that his happiness came from the Lord.

David was a mystery to many in his kingdom who were striving for higher positions. Many people around him might have thought that he was simple-minded and ignorant of the true road to success. But David lived from his heart, he perceived the ways of God and had experienced some things himself that made him stand out from the crowd. Like fighting a bear and a lion and being all by himself in the fields.

Many people try to promote themselves into positions which only God can give; He knows the gifts and talents that are on the inside of everybody. We all have a place in the Kingdom; we don't have to strive for a position or for attention. God will gladly show us what we need to do and where we need to go.

It is time to trust God and to be confident that He lives on the inside of you; always ready to give you the wisdom you need and lead you to the green pastures that He has prepared for you already before you were born. Just relax in who you are and whose you are and see your success unfold in your life like never before. It all starts on the inside!