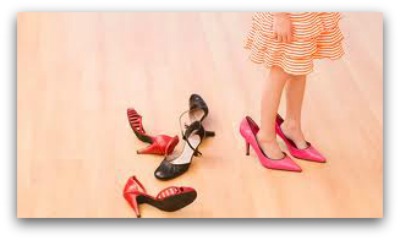 Grow Up and Be Free to Fulfill Your Destiny
by Olga Hermans
Most Christians desire to fulfill the will of God. They know that they have a covenant with God and that all the promises in that covenant belong to them. Then there is the world on the other side that tries to talk them out of their covenant rights and privileges, especially the promises about prosperity and financial provision.

God has prepared a wonderful inheritance for you and me and those who are mature, responsible and faithful will receive it. Gal.4:1-2 shows us that although this inheritance belongs to us, childlike tendencies will hinder us to receive them.

Do you think that, that is unfair? I love my children very much, but I wouldn't give them something if they weren't old enough or mature enough to handle it. I wouldn't give my son a motorcycle, if I knew he was way too young for it. I wouldn't give my daughter a sewing machine for instance, if she was way too young for it.

Likewise, our heavenly Father loves us too much to give us things we can't handle. Therefore it's important that we understand what's needed to walk in the abundant life. People grow in different areas in a different way, but God expects to grow all areas of our lives-spiritually, mentally, emotionally, physically and financially.

We can make the growth process easier by desiring more of God's Word. "As newborn babes, desire the sincere milk of the word, that ye may grow thereby" (1 Peter 2:2). That means, when we are thirsty for the Word, we put a demand on the Holy Spirit Who causes us to grow. "But grow in grace, and in the knowledge of our Lord and Savior Jesus Christ" (2 Peter 3:18).

First Corinthians 13:11 says, "When I was a child, I spake as a child, I understood as a child, I thought as a child: but when I became a man, I put away childish things." Child of God, if you're still carrying a chip on your shoulder because of something that happened in the past, get over it and move on!

Stop being jealous when some of your friends gets promoted; instead rejoice with them for what the Lord has done for them and know that you might be next in line. Don't think about what other people might think of you. One of the biggest things that we need to be set free from is the fear of man; we need to fear the Lord instead!

Put away childish behavior so you can walk in your inheritance. Eph. 4:14-15 Grow up and be free from your old ways in order to fulfill your destiny. If what people think about you moves you more than what God says about you, then God isn't the Lord of your life. God cannot do anything for you when all you're concerned about is popular opinion.

We need to get our priorities straight. It is very simple when we keep our eyes on what God says and not what Joe and Annie say about us. We should live to please God; our destiny is in His hands; He created us and has all the answers to all our questions.
Isaiah 51:12 NLT says: "I, yes I, am the One who comforts you. So why are you afraid of mere humans, who wither like the grass and disappear?

Instead of listening to criticism and sarcasm, we should be focusing on God. Listening to critic and sarcastic remarks will cost you your healing, provision and the salvation of family members if you allow it to affect you. You see, it's not only about you. God wants to bless you so that you can bless others (Gen. 12:2-3).

You really have to be on the alert, because satan will bring people into your life that tell you all the details about how selfish it would be for you to prosper and be blessed. But you and I know that he is the father of lies, he cannot do anything else. John 8:44 He will try to bring shame on you and talk you out of what rightfully belongs to you.

So, rise up and be humble before God, but be bold enough to apply the Word of God to your life and receive His blessings with a thankful heart. You really shouldn't think twice about who disagrees with what you are believing for. Be free and walk in complete liberty from people and their opinions so you can possess all the Father has for you.

If you are born again, Jesus Christ has made you free from the bondage of opinions so you can glorify God, free from poverty so you can be rich, and free from sickness and disease so you can be healed. He made you free to walk in liberty.

Like any loving father, God wants us all to grow up and become mature. He has prepared a great inheritance for us. Make a quality decision to obtain wisdom through His Word and spend quality time in His presence. Before you know it you'll be walking in His freedom…and in His blessings continuously.
You can subscribe to The Daily Choice which is a SPIRITUAL Devotion that helps you to make the right choices in your life!