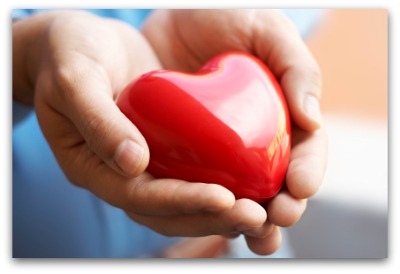 Your Heart Needs Attention
by Olga Hermans
Today there are more than half of our young people in the world living in single-parent households during their childhood. This creates a sense of abandonment and rejection in their lives. Yet God desires for each and every one of us to be whole and fully restored to how He created us to be.
One of the signs of an abandoned heart is that people refuse to look at personal problems and personal responsibility. When was the last time you looked at the attitudes and conditions of your heart? Whether you realize it or not, many of these were established by your childhood environment and carried into adulthood.
Your life experiences affect your heart. They definitely have an effect on how you make choices for your life.  And you probably will find it difficult to make decisions, because it is difficult for you to look ahead and see your future. When you are able to spend time with a good family and a great church family as well, your heart has time to recover. But hurts, bitterness, and lies will produce problems in your heart.
As you renew your mind to God's Word, your heart will open up again to the good things of life. When you start making the necessary adjustments in your life, the problems in your heart will fade and you will begin to experience positive results.
When you know that your life is on target with God, you only need to make some small changes to keep going and continue to grow, increase, improve and prosper.
Let's say for instance, you are driving from Vancouver to Dallas. You know, it is all the way south, but you need to make some changes to stay on course, like changing roads now and then. But you know, that you just have to keep on going to get there and not to stop and not give up, because that is the way to get there right?
If you have made some really bad decisions and wrong choices in your life; you better stop your car and change direction, and find the road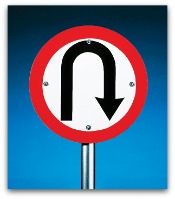 that will take you to God's best for your life. Most people have made some bad decisions, but that doesn't mean we should stay there. No! There is always a new start waiting for us.
Sometimes you have to make more than small adjustments, you may have to do a U-Turn and get serious about life changes. I want you to know, it is never too late. It is never too late to turn around and set your life on the right foundation. Stop sabotaging your life and stop tolerating that your life is running on an almost empty tank.
The "roots" of your heart produce positive and negative results.
…looking diligently [becoming aware, plugging in, learning] lest anyone fall short of the grace of [or live below God's will, His grace, His blessing]; lest any root of bitterness springing up cause trouble, and by this many become defiled. Hebrews 12:15
Bitterness means "a bitter root…producing a bitter fruit." Springing comes from the Greek work phuo meaning "to puff or blow" or "to swell up." Defile means "…to taint" or "contaminate." A bitter root from negative circumstances in life swells up and contaminates our hearts. Take this motto: "Don't get bitter; Get Better"!
You gotta watch those roots
How is it possible that a married couple still divorces after being together for many years? It is because a root springs up. Why do people get in debt and poverty when they know that God wants them to prosper? That specific root came up.
Why do we accept to be depressed and discouraged when we are full of the Spirit of God and know the joy of the Lord belongs to us and the peace of the Lord is ours? A root defiles our hearts. It keeps us from God's best.
Roots grow below the surface. We are able to see the trunk, leaves, and branches on the conscious, surface level. When you renew the spirit of your mind to God's best for your life, you are willing to dig up the negative roots and move toward a healed, whole heart.
The roots of your life, all those issues in your life; they predict your future. It will never work when you keep covering them up, ignoring and denying them. There will be a moment in your life, where you will have a big garbage dump of issues that you knew you had but never wanted to deal with.
Have you ever seen those acreages where truckload after truckload has been dumped "until it is full". Then they decide to cover it up with beautiful grass and everybody sees "a beautiful park". It looks so nice on the surface.
But then after some years, people in the neighbourhood begin to experience some ails and physical problems. After some research, methane gas is found and it came rising up through the grass. So, a complicated system of piping needs to be built to deal with the problem. The gases are gathered and burned off so the gas will not escape into the atmosphere. Why? Because they didn't want to deal with the garbage issues from the beginning.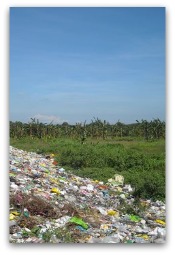 Your Life Needs to be Detoxified
Sure, you can cover the garbage of your past, but it will never be able to heal your heart. When you go places or go to church on Sunday, you may look nice, but gases are rising from the surface below and you know it. There are personality disorders. You love the Lord, you are on your way to heaven, but you still cannot get your relationships right. You trust God, you believe in God, you work hard, but you still struggle financially.
Maybe you believe the bible and you quote Scripture, but you cannot serve others or get close to them. You feel lonely, isolated, and separated. You call yourself a Christian, but you do not have time for your children, you talk disrespectfully about your husband, and you gossip to your neighbors.
We can look good on the outside, but the hurts, pains, and problems of our past are bringing up gases. There is a tendency to blame others and point the finger. We want to say, "It's that spouse who left me," "It's that guy who raped me," "It's that parent who rejected me."
Certainly they had a part to play, but you have to decide right now if you want a whole, healthy, healed heart.
Let Your Spiritual Roots Spring Up
God has always been there for you; He always gives you opportunities to be healed and to deal with the issues in your heart; those roots in your heart. Wake up and become aware of what is going on, on the inside of you. Make that choice not to hide what you cannot hide anyway.
We all have seen those roots that grow through the cement and sometimes can even tear a road to pieces; that is how powerful they are. No matter what you put on top of them, they will spring up at any given time. They have a way of coming up when you least expect them. Make a choice to determine not to ignore them or even deny them.
Our habits and attitudes are linked to a root system in our lives. In the natural, sometimes you can pull up one root and realize it has gone way over to the other side of the yard. It is not so easy to get rid of.
Likewise, in the spirit realm, we must begin to look below the surface of our lives.

You can subscribe to The Daily Choice which brings an encouraging message 5 days a week to your inbox by clicking here