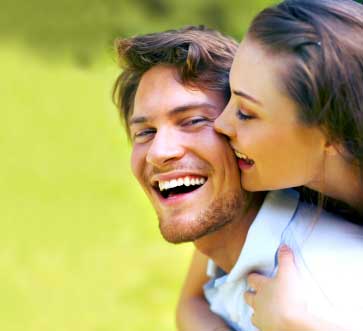 How Do You Know You Are Ready for Marriage?
by Olga Hermans
You are ready for marriage when you choose to understand God's plans and purposes for marriage. Many people aren't ready for marriage, because they've never understood God's plans and purposes. It definitely is a choice to be willing to understand and gain knowledge or to just ignore the things that you need to know before you get married. How can you help me make the right choice in marriage partner is very often a question that singles ask. What they are saying is that they desire to have God's choice marriage for their life. Life is about choices and making decisons that matter.
You're ready for marriage when you're mature enough and willing to assume the responsibilities of being a husband, a wife, a father, or a mother.
You're  ready to get married when you're ready to settle down with one person for the rest of your life. You should think in terms of a 75-year contract. When you're ready to sign in blood with your life, you're ready for marriage.
You're ready for marriage when you're no longer depending upon your family or relatives to support you. Thank God for support that may come, but you shouldn't depend on it when you're going into a marriage union. You need to fly with your own wings. Many people want to get married, but they set themselves up for difficulties by their financial circumstances.
You are ready to get married when you are ready to give love and to be loved. Many couples get married in lust and the husband and wife have never learned to really love one another. When they say, "I don't love you anymore," what they are really saying is, "I don't lust after you anymore." The lust is gone, so there is no reason to stay in the relationship. But when that love is self-giving, kind, and tenderhearted, then you're ready for marriage, because regardless of circumstances, you'll keep on loving.
If you're married and you've missed some of these foundational stones, you must work at it. You must desire to the point that your desire is translated into effort to rebuild the foundations in your marriage, but they don't translate the desire into effort.
My husband and I weren't raised in a Christian family, as of now we are still the only Christians on both sides. Because of our past and our different backgrounds we went through some very rough place in our marriage. All thanks to God, we came out on top and were able to raise our children with Christian values and principles.
You need to take time to talk about ways to improve and strengthen your home. Learn to ask: "How can I help you? What can I do?" Open yourself up to listen, talk, and communicate. You can get more knowledge, although I don't think it's always the issue of getting more information. I think people have enough information in many cases if they'll only would communicate it with each other.
To be ready for marriage, you need to be healed of past hurts. You cannot carry grudges into a marriage and family relationship and expect the family to keep growing. If you're bitter at your children, the children are bitter at the parents, or the husband and wife are bitter at each other, you need to forgive and release one another. If you don't, when an argument or strife comes and your blood pressure goes up, you'll pull out your list and go through all the things that have happened in the last 20 years or so!
You need to have a list-burning ceremony! Send the offenses up in smoke! Burn them and determine, "I am going to forgive myself, forgive my mate, and forgive my children.
There is a NEW Beginning.
When two born-again believers come together in marriage before God, in His eyes, they are cleansed. They are as clean before the Lord as Adam and Eve were in the Garden before they sinned, no matter what their past has been.
Maybe you've had a broken marriage and you've remarried. There's cleansing and forgiveness for failures that have been committed in the past, whether you have deliberately and unknowingly failed in marriage God can give you knowledge and understanding. He can give you a marriage in wholeness and bring into your marriage the power that He plans.
You can make a choice to start over today right where you are with a fresh mental and spiritual attitude, by forgetting those things which are behind.
You can start by obeying 2 Chon.7:14: Then if my people who are called by my name will humble themselves and pray and seek my face and turn from their wicked ways, I will hear from heaven and will forgive their sins and restore their land.
This means, for a fresh start and for healing in your marriage and family, you need to:
Humble yourself

Pray and seek God's face.

Turn from your wicked ways.
Then God will hear you, He will forgive your sin, and He will heal your marriage and family.
To be completely sure about the new beginning, obey the command of Isaiah 60:1 (Amp): ARISE [from the depression and prostration in which circumstances have kept you–rise to a new life]! Shine (be radiant with the glory of the Lord), for your light has come, and the glory of the Lord has risen upon you!
Arise from the circumstances in which you find yourself. You can rise above them, and God will meet your every need. He wants your marriage healed. It's not too late for your marriage. It's never too late. God's Word is the same yesterday, today and forever. Hebr.13:8
Post/Tweet this: You are ready to get married when you are ready to give love and to be loved #TheDailyChoice
You can subscribe to The Daily Choice which brings an encouraging message 5 days a week in your inbox.