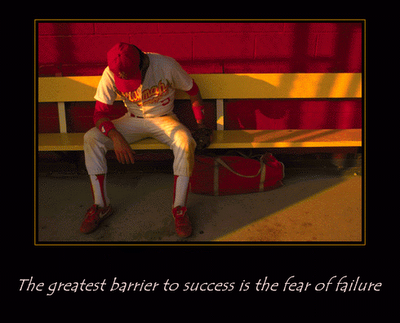 The Fear of Failure Needs To Be Conquered
by Olga Hermans
The Fear of Failure is the greatest barrier to success. So, if you want to be succesful you have to make a choice to conquer that fear. Let me tell you a little bit more about this fear by asking you first this question: "Are there things in your life that you are passionate about"? I, myself am passionate for God and I have a passion for souls. I also have a passion for life itself. If you are passionate about something, you won't let anything stand between you and it.
Desire and passion are the greatest motivators for getting results. The greatest obstacle to your success and the tactic satan uses the most to destroy your passion is the fear of failure.
It is the anxiety that causes you to settle for far less than what God has in mind for your life. The fear of failure is probably the greatest single obstacle a believer has to overcome. Everyone has experienced failure in some way or another. Many people never recover from the experience of it.
If you have ever failed in anything, then satan would love to use that as an obstacle or a barrier in your life so that you never have confidence to step out again.
Let me tell you something about anxiety. You weren't born with it. It is something that you learned. I believe that babies are born with two remarkable qualities. Number one, they were born largely unafraid. A baby does not come into the world with a fear of failure.
The other quality that a child is born with no shyness. They have no fear of failure and no shyness. Babies do whatever they want to do, at any place at any time. Did you notice that an infant does not ask its parents if it is okay to cry in a public area? They don't care. They think every place is for them to cry as loud as they desire.
You came into this earth without fear and without any shyness. If you have anxiety in your life and you are shy then you had to learn that. You had to develop that. It did not come at birth and God did not give you a spirit of fear. We even say things like, "I have developed a fear of flying." You were NOT born with that, you developed it!
Fear is a spiritual force and it is what activated satan just like faith activates God. Fear invites satan to manifest himself just like faith invites God to manifest himself. Fear is nothing more than confidence in the devil. It is reciprocal of faith. God is ready to take you higher in your life but you first have to conquer the fear of failure.
If you let anxiety control you, then you will not reach your full potential and you will never be free to be yourself.
God expects you to be fearless and bold in the face of all adversity. If you are going to experience God's best, then it is mandatory that you conquer fear and especially the fear of failure. The fear of failure robs you of thinking big and expecting big things in your life. The fear of failure will keep you from stepping out and doing something new or something different.
Fear can immobilize you. If you are immobilized by fear; then you will settle for less than God's best. Just as confidence is the result of meditating God' Word, anxiety is the result of meditating on what the devil says. If you think about what the devil says long enough, it will create anxiety. Fear brings him on the scene just like faith brings God on the scene.
People of courage are not people who have never had fear. People who have courage are people who have mastered fear. God is looking for people who will master their fears. Are you one of them?
You will never find a person who has great faith and great fear at the same time. One negates the other. When faith comes, fear goes; but if you are not in the Word of God, then fear comes and faith goes. You are attracting one or the other into your life every day based upon what you listen to and what you see.
Your eyes are the gateway to your spirit. What you see and what you hear will get down in your spirit. We know that, we live in a world that is full of negative information. It is against our faith. It is against the knowledge of God. From time to time, we all have the opportunity to be in a negative atmosphere and to hear negative things.
If you have a television set, you have an opportunity to hear negative things every day. If you work in an environment where most of the people are not born-again, then you probably hear negative things every day.
Doubts are nothing more than faith in what the devil says and it will come to pass. If you doubt God, then that means you have confidence in what the devil says.
If you fail to conquer the fears that you have allowed to come into your life, then you are never going to be free to do what God put you on this earth to do.
Please come back tomorrow for the "5 Things on How Master the Fear of Failure". Make a choice to stand up on the inside of you and conquer the Fear of Failure. This is your time to arise out of fear and complacency. You are here for such a time as this!