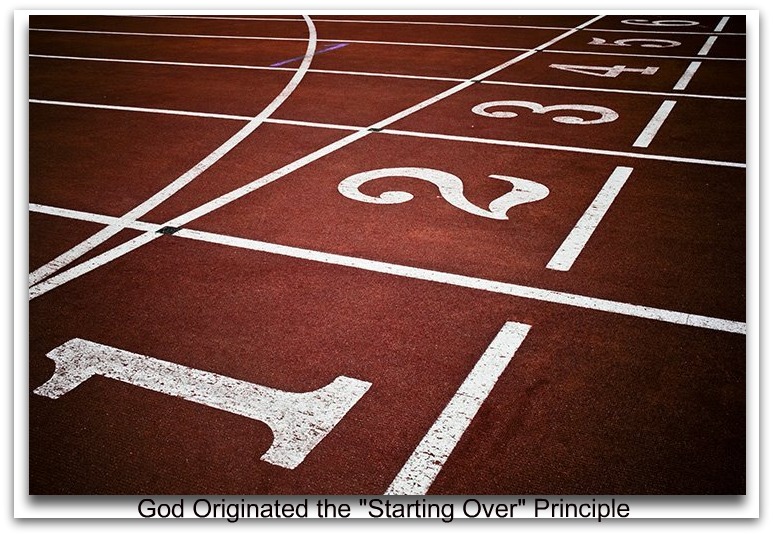 You Can Start Over!      
by Olga Hermans
God Originated the "Starting Over" Principle
Has there ever been a time in your life that you wanted to start all over again? Well, I would say "join the club". Of course you have and you have many chances to do that. There are many moments in our life that we don't know what to do and feel like we should do something and then later on regret what we did.
Wouldn't it be wonderful if all human beings were born with "manufacturer's instructions" tied to their wrists, explaining who they are and how they work? (Of course, even if we did, most of us would probably skip the instructions and try to figure out life as we went along!)
So, there are times in our life that we really miss the mark so to speak. But God has put the principle of a "new start" in the entire universe. Everybody that reads the Bible knows that He worked for six days in Genesis chapter one, and then on the seventh day He rested. The week starts all over again on Sunday.
We thank God and worship Him as we go to church on Sundays, at least most of us do. Sunday is resurrection day; it is the day that Jesus arose from the dead. The early church began to worship on the first day of the week.
Look at how we celebrate a new day every day, because the earth rotates every twenty-four hours. It doesn't matter how dark it gets during the night, morning will always be there on time. A new moon appears faithfully every month.
Every year, we experience a new beginning because the earth rotates around the sun during the 12 months of the year and then it starts all over again.
Then there are the seasons; after summer comes fall, then winter and the spring. God said. "While the earth remains, seedtime and harvest, and cold and heat, and winter and summer, and day and night shall not cease" Gen. 8:22.
God is the one who has put the principle of "starting over" in the earth. The time that we were farmers in Alberta and had a bad crop in a particular year, we were looking forward to the time that we could start all over and plant a new crop for the next year! I remember that time so well and that each year brought a new harvest.
The Bible is filled with stories of people beginning again. God made a beautiful, perfect Garden and put Adam and Eve in it. In spite of its perfectness, they fell. The moment they fell, God initiated a new beginning. He said, "the seed of women is going to crush your head, devil. It's going to destroy your power and take away what you've done" Gen. 3:15
When Jesus came to the earth; we started all over again with a new calendar. It changed from B.C. to A.D. It was a very significant moment when Jesus arrived in the earth; time started all over again and it was not a coincidence or an accident. No! Life begins not when you were born or when you turn 50, but with the moment that you receive Jesus into your heart as your Lord and Savior.
That is the new start in our life where we can make a choice to forget all those things of the past; the things which are behind. What are you waiting for? When you want to discover the life you were born to live and really, really want to pursue your destiny you have to leave everything from the past behind you.
When you want to feel in control and have faith for the things that you can't control, you have to arise from your slumber. You know, as soon as you know what you want your life to look like; you are able to make important decisions and all your focus and everything else gets real clear.
The life you were born to live is one without regrets, one where you can learn from your mistakes and where you feel you are in control. See what Paul told us; read it very carefully:
Brethren, I count not myself to have apprehended: but this one thing I do, forgetting those things which are behind, and reaching forth unto those things which are before. I press toward the mark for the prize of the high calling of God in Christ Jesus. Phil. 3:13-14
Are there some things in your past that you'd like to forget? I do! We need the grace of God to forget. Grace is the power of God that enables us to do that. It is not something that we are able to do by ourselves, but it is by His gift of grace that we are able to leave the past behind and to let go of all the things that have happened.
We need to know that because Jesus shed His blood on the cross, the past is wiped out. God does not want to remind us of our past and He does not want to be reminded by us of our past. Such a good God.
People want to hold on to the past for more than one reason. They don't realize that God originated the "Starting Over" Principle.
There are people who have had some great things happen to them in the past; they are very nostalgic, they love to experience it again and again in their mind. Then there are people who hold on to the past because it was so bad. These people are bitter and hold on through regret and sorrow, they like to go over it time after time.
Today is the day to choose to start all over again and to forget all those things of the past and lay those things "which are behind" aside. They keep you from moving forward; your future is much better than your past. There are so many things that you can look forward to.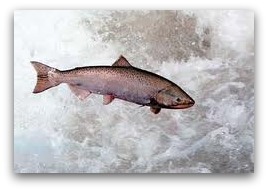 Do you like salmon? The salmon is known as a fish with a fighting spirit. You might have seen a video of salmons where they fight the current because they want to go upstream and lay their eggs before they die.
Fighting to go upstream is not the only thing that they do; there are also bears on both sides of the stream that try to stop them from their most important accomplishment. It is amazing seeing how they challenge the rapids, rocks, and bears to reach their destiny.
Salmon have a remarkable sense of direction as some of them travel as far as 2,000 miles to find the exact stream in which they were born. Somehow, they know the exact destination they must go to lay their eggs. They must go up that particular stream to fulfill their destiny.
Their purpose – to lay eggs and fertilize them – will multiply their impact on the next generation. The bears would like to eat salmon and end their journey prematurely. The bears actually want the eggs the salmon are carrying. Many times they will rip open the fish, eat the eggs, and leave the carcass.
Do not be afraid to go upstream. God has an exact destiny or stream that you should go up to lay your eggs. Satan is not exactly just trying to stop you; he wants to get the eggs you are carrying. Satan knows that if you reach your destination and finish your course, you will lay some eggs that will bring multiplied blessing to your generation.
This might be a moment for you to make a choice to start all over again, to fight and go upstream. If that is what it takes, then just go and do it by all means. God is on your side; He watches over you all the time and you can do all things through Christ which strengthens you.
Please share with us you have been in that place where you started all over again or maybe you are in it right now. Thank you so much for doing that!
You can subscribe to The Daily Choice which brings an encouraging message 5 days a week to your inbox by clicking here