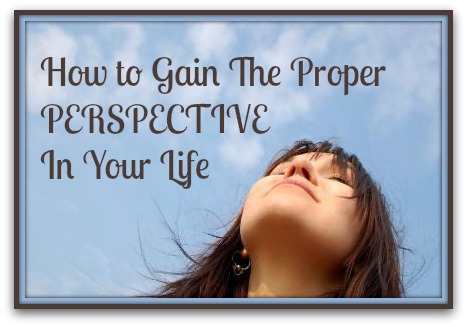 How To Gain The Proper Perspective In Your Life
Have you ever noticed that when you are worrying about a certain thing in your life, seeing someone else enjoying himself or herself can really feel annoying?
It seems that some go through life having such a good time that they appear naive and immature. People can clearly enjoy their lives and it can appear to us as if they don't have a worry in the world. But the truth is that they have made a choice to have that attitude.
What Is Your Outlook On Life Today?
Do you wake up every morning to embrace the day? So many people allow their circumstances to dictate their lives. They don't realize that they have been given free will to choose how they want their day to be. We can make a decision every morning to rejoice and be glad for the day that the Lord has made (Psalm 118:24).
The Bible encourages us to constantly put on a fresh mental attitude. When we wake up in the morning we can make that first choice to focus on good things (Philippians 4:8). We can choose to be grateful for and excited about the day.
It is too easy to let our responsibilities and the pressures of life cause us to drift into negative thinking. Negative thinking weighs us down, causing us to lose our joy and enthusiasm. Before we know it, we stop appreciating our friends and family, and begin to doubt that they are for us. And soon, we may even think that the entire world is against us.
Negative thinking makes the small things seem tremendously large, until we are living in constant worry and frustration.
If that is how you feel today, take heart because your life can be different. You can take off that garment of heaviness and put on a garment of thanksgiving. You do this by making a choice to engage your will; you can choose to have a new outlook on life.
Everyone faces difficulties and huge challenges. We all have obstacles that seem impossible to overcome. The difference between those who are able to rise above their adversities and those who are mired in them is their attitude.
What Are You Thankful For?
A key to enjoying your life is finding things to be thankful for every day. Make a list. Write down all the good things in your life. Review it each day, every morning, before you leave the house. This will help you focus on the many treasures that fill your life, and it will give you a positive perspective and a grateful heart.
We all have things to be grateful for, but sometimes our perspective becomes distorted and we fail to recognize and focus on those good things.
I think we all have one or two friends who have a tendency toward a negative perspective. They are always having a bad week. Their children are always sick, they are almost always late for work and the list goes on and on.
No matter what season of life you are in, you must deal with the temptation to focus on the negative. Make no mistake, we all choose where to place our focus. Those who have the richest perspective on life choose to be happy and content with what God has given them and to trust Him in those things that are truly difficult.
Compare the Proverbs 31 Woman to Eve
The Proverbs 31 woman seemed to have it all: she was diligent, faithful, content and she ran a huge household without murmuring. She totally enjoyed her life.
Compare the Proverbs 31 woman to Eve. She was a woman who truly did have it all. She was living in the most gorgeous situation ever with the perfect man by her side. Then the day came that she chose to focus on one negative thing, which was the only fruit tree from which God had told her not to eat. She couldn't focus on all the other fruit she was permitted to take.
The more she looked at the forbidden fruit, the larger it became in her mind. She allowed the one negative in the garden to twist her perception of the entire garden. She magnified that one forbidden thing until it was so large in her thinking that she couldn't see anything else.
What Are You Magnifying?
When you magnify something, it doesn't actually change the size of the object, it simply changes your perspective of the object. When you hold a pen or something in your hand and stretch your arm out in front of you, the pen seems small compared to your surroundings. But when you pull the pen in nearer to your eye, it appears much larger.
In fact, when you hold it close enough, you aren't able to see anything else. So often in life, our difficulties and challenges seem so much larger than they actually are, simply because we are holding them closer to us than necessary. But when we have the right perspective, those same difficulties become much more manageable.
What's the point in choosing the negative? It's like swimming against the current – it makes everything a struggle. An improper perspective will drain your energy and vitality. It will sap the fun and joy right out of your life. Your life was meant to be enjoyed. You weren't created to constantly struggle and be in perpetual discouragement.
I am always amazed how my perspective changes when I have a grateful heart and choose to count my blessings.
To Sum It Up
To keep the right perspective, we must magnify the right things in our lives. When I come up against challenges, I remind myself of all the great things God has done for me and will do for me. I begin to thank Him for allowing me to know Him; I thank Him for my family, my husband and my children. I thank Him for my awesome church family and my pastor.
It's all a matter of perspective.
Wise choices will watch over you. Pro 2:11 NLT
You can subscribe to The Daily Choice which is a SPIRITUAL Devotion
that helps you to make the right choices in your life!