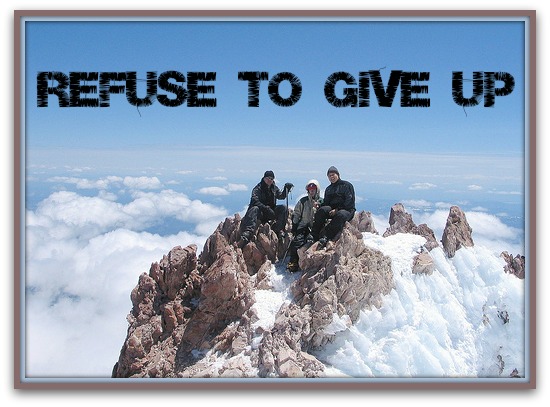 +
Refuse To Give Up!
Being strengthened with all power according to His glorious might
so that you may have great endurance and patience. 
Colossians 1:11
We have heard it said that the mind is our battleground and it is. We formulate thousands of thoughts each day; some are neutral (2+2=4), some are positive (God is for me), and some are negative (Things always go wrong for me). As Believers, our mandate is to develop those thoughts that agree with God's Word and dismiss those that don't.
Positive thoughts produce positive outcomes. And negative thoughts produce negative outcomes. It is that simple. When we focus on positive thoughts, we are exercising our faith and are filled with hope. When we dwell on negative thoughts, we feel fear, doubt and unbelief.
If we are not careful negative thoughts can destroy our lives. The battle of our thoughts is not won through human effort. It is a spiritual undertaking, empowered by the Holy Spirit and grounded in the Word of God. We interfere with that undertaking when we choose to hold negative thoughts.
Ephesians 4:23 tells us "Be renewed in the spirit of your mind." We do this through applying the truths in God's Word. God will regenerate our minds, giving us strength to fight and win the battle for all of our thoughts.
At times, the battle can seem endless and you may question if you will win. Renewing the spirit of your mind is a process. Your mind is being realigned so your thoughts agree with God's thoughts. In computer programming there is a saying "Garbage in, garbage out." God is working with us every day to reprogram our minds. Our role is to cooperate with Him. It takes time though, so we cannot become discouraged.
Paul encourages us in Galatians 6:9 to not "grow weary in well-doing for "we cannot allow ourselves to become tired of living the right way and that all of us will receive everlasting life at the proper time. Paul is admonishing us to be persistent.
When a baby begins learning to walk, he falls many, many times before he successfully walks without falling. And a baby is persistent! He may howl in frustration after falling but he will always get up and try again. That's the persistence we need when being renewed in the spirit of our minds.
We must resolve that we will never give up saying "God is on my side. He loves me and He is helping me. I am going to make it. I am going to win this battle."
It's inevitable that you will experience setbacks from time to time. There will be occasional bad days. But like the baby learning to walk, just dust yourself off, get back up and get going again.
Learning to change the way we think is not always easy, but if we are persistent, we will get there. Whatever you are going through today or whatever you are facing today, refuse to give up.
Will you choose hold and to focus on positive thoughts, renewing your mind and winning on that battlefield? Now, that's the choice-driven life!
Today's Bible Reading:
Jer 38, 39, 52; 1 Pet 2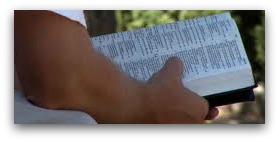 Click Here
for your 5 Day Weekly Bible Reading plan!
Subscribe to our FREE Updates as soon as they are published and receive our FREE Report; Click Here
The Most Important Choice You Can Make: Prayer for Salvation: God in Heaven, I come to You in the name of Your Son, Jesus. I confess that I haven't lived my life for You. I believe that Jesus is the Son of God. I believe that He died on the cross and rose again from the dead so I might have a better life now and eternal life in heaven. Jesus, come into my heart and be my Lord and Savior.
From this day forward, I'll live my life for You to the best of my ability. In Jesus' Name I pray, Amen.
Click Here
if you need more information.