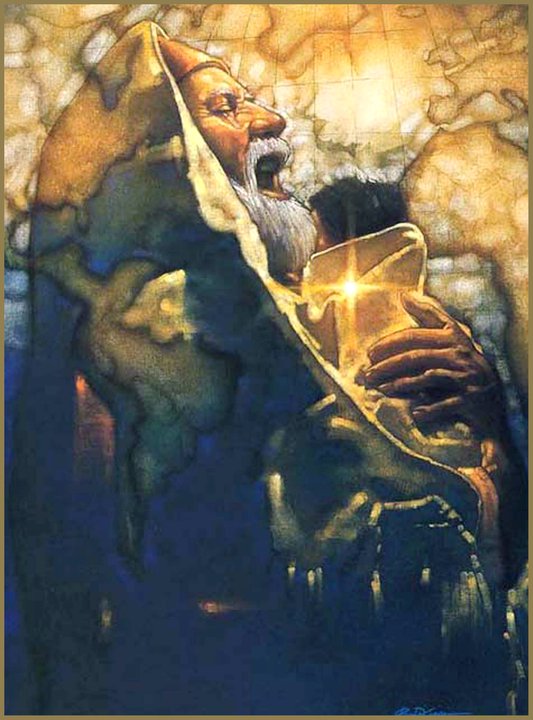 Simeon and Anna's Moment
by Olga Hermans
We have a beautiful painting in our living room from Ron DiCianni. It's called "Simeon's Moment". It is one of my favorite paintings. It must have been such an awesome experience for Simeon to hold the Son of God in his arms! For Simeon it was indeed the moment of a lifetime as it showed the fulfillment of God's promise to him and to the world.
Simeon's Moment speaks to the joy and elation that Simeon must have felt at seeing that prophecy fulfilled. This is the moment that Simeon had chosen to live his life for God. Luke 2:21-35
The people of Israel had eagerly waited for centuries for the Messiah to arrive, but it wasn't until the perfect moment in history, during the census of the entire Roma world, when the baby was born. Jesus was born right on time and in the right place, fulfilling many Old testament prophesies.
Jesus is consistently, perfectly, always on time. You may be waiting for God to fulfill a promise to you. Don't lose your hope; he's on time and always keeps his promises.
And than there is Anna; what did it mean to her to see the Messiah? Can we even imagine what was like for her? As a prophet. She had spent years waiting for the Messiah. She knew the promises that God had given to his people throughout the centuries and she had spent her life praying and fasting, longing for the Messiah to appear.
Anna exemplified qualities of anointing and steadfastness. After being married only seven years, her husband died and this widow chose a life of fasting and prayer in the temple. She did not depart from the temple, but made the choice to serve God. Luke 2:36-37, clearly chose to walk in moral purity and dedicated service. The name "Anna" means "Favor" or "Grace". She did find favor in God's eyes for He revealed the Messiah, the Hope of Israel to her.
So, when she overheard Simeon giving thanks to God because he had seen the Lord's Messiah, she knew she had to see the child. In that tiny body was the hope for Jerusalem, the redemption of the people.
There is worth and value in whatever passage of life you may find yourself. Many people might consider elderly people worthless or those lonely years of widowhood unbearable. But our God can make any time in our lives worthwhile and useful. You may be washing floors and wiping up after young children right now. Or maybe you are in between jobs and uncertain about what step to take next. Maybe you're waiting for a husband or for financial security. Choose to believe that promise that you have; God will come through for you!
Many who prayed and waited for the Messiah never saw Him. But one day the Lord allowed these two elderly people to see the Christ child and joyously praise God for that long-awaited answer to prayer!
Wherever you are in life, look for ways to serve God in and through your life situation. And I know this; If you choose to be faithful, God will honor you.