We are really living in a time where peace is hard to find. Times are different isn't it? We keep looking back and romanticize all the Christmas' times from the good old days. But, we are living in these times and we are called for such a time as this. So, we need to make valuable choices and that is certainly to enjoy this season.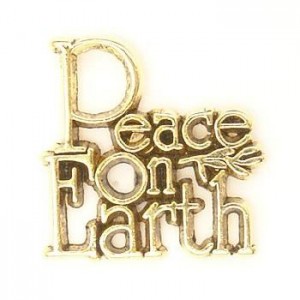 But for many people, it's a difficult time. Every day our eyes, ears, and hearts are being bombarded by the media with glaring headlines of doom and visions of turmoil…anything but peace.
People everywhere are experiencing all kinds of pressure and stress. And people everywhere have a choice to make—difficult choices between receiving turmoil into their hearts, or choose to resist fear and refuse to allow it to chip away at their peace.
I feel confident you will choose to resist fear and live in peace—regardless of what's happening. And there is only one way to effectively do that; you must go to your Father and read what He wants to say to you in His Word.
There is a scripture in Isaiah 26:3: "Thou wilt keep him in perfect peace, whose mind is stayed on thee: because he trusteth in thee".
Peace comes when you trust God, when you operate in faith, keep your mind on His Word and then act on it. The word for peace in this verse is "shalom," which means "nothing missing, nothing broken."
The root word it comes from means "to be complete, sound, whole." And there is another definition for peace that I especially like; it is "everything that makes for man's highest good."
That is God's heart for you: He has the "highest good" in mind for you.
Doesn't that motivate you to make a choice to cultivate peace in your life?
How can you obtain peace?
Alexander Maclaren said: "True peace comes not from the absence of trouble, but from the presence of God and will be deep and passing all understanding in the exact measure in which we live in and partake of the love of God." Oh..I like that, don't you?
Ponder about that for a little bit…..peace isn't determined by the absence of trouble but rather by the presence of God. Wow, that is a significant thought!
This time of year we often hear the Christmas story from Luke 2:14 about the birth of Jesus and how the angels announced, "Glory to God in the highest, and on earth peace, good will toward men."
Our peace comes from being joined to God. When Jesus was born, the way of peace was back in the earth making it possible for man and God to be reconciled and have peace with one another again.
Jesus, the Prince of Peace, is our peace (Eph. 2:14). When we accept Him as our Savior and make Him Lord of our lives, we are in covenant with God and it's a covenant of peace.
But it's important to realize that peace doesn't come automatically—there is something for us to do.
It's true that Jesus has given us His peace.
In John 14:27 Jesus comforts us with these words: "Peace I leave with you, my peace I give unto you: not as the world giveth, give I unto you. …Let not your heart be troubled, neither let it be afraid".
There is so much trouble in the world. Without the protection of God, things are unsure in this life, isn't it? But Isaiah 32:17-18 assures us that,
The fruit of righteousness will be peace; the effect of righteousness will be quietness and confidence forever. My people will live in peaceful dwelling places, in secure homes, in undisturbed places of rest." Oh, I like that!
So, if we want to live in peace, we have to pursue righteousness, we have to follow God and obey His Word. The reward is substantial…quietness, confidence, peaceful dwelling places, secure homes, and rest! Who would not like that?
Peace is such a powerful force that even if your circumstances are turned upside down and inside out, or you're caught right in the middle of a war, or you're experiencing tremendous emotional turmoil, even then the peace of God can rise up within you and bring you a sense of well-being.
It is a blessing of God that no matter what's happening on the outside, you and I can live in peace. The truth is, we can be undisturbed during any crisis situation when we're vitally connected to God.