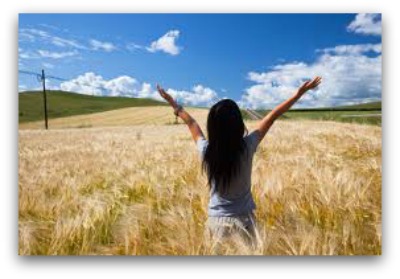 Living the Life You Really Want Is Not Always Easy
by Olga Hermans
Living the life you really want is not always easy, but you can do it. Let me show you how. God has a plan for your life. It doesn't matter how much time has passed or what kind of mistakes you have made, the vision He has given you is still in you and it is time to pursue it. If you are willing to pursue your dreams, nothing can keep them from coming to pass!
Has your dream become fuzzy? Has everything around you, your circumstances, what people say, or what the economy says affected your dream? Have you come to that place where you have decided that it will never come to pass? Or, is that dream still somewhere deep, down inside of you? If it is, then it's time to dust off your unfulfilled dreams!
It's time to create a proper atmosphere in your life so that your dream will become a reality. It is important that you know that before you can change your present situation; you have to look ahead to where you want to be. You cannot keep focusing on your present circumstances. You need to know where you are going, so you can set your goals for getting there when you arrive.
"… Write the vision, and make it plain upon tables,
that he may run that readeth it." Hab 2:2
This is a very important verse in the Bible, because that is how God works and we should do the same. The only way to know what you want to do and know where you are going is to think about it and to write it down.
Hebrews 11 says that God is an architect and a builder. Architects and builders have blueprints; they have plans. Noah had a plan to build the Ark; Moses had a plan to build the tabernacle; Solomon had a plan for the temple; and He has a plan for your life.
Every time you read your vision that God has put in your heart, you can run with it. It keeps you focused. It motivates you. It propels you forward. What puts a dance in your step and a smile on your face? If you haven't experienced anything like that in years, then it's time to get away with Him.
There are times that we have to shut ourselves away with God. It can be in your own house, where you find peace and become still before Him. Once you hear the Father reveal His plan to you, you write it down and run with it. Then, you never give up until it becomes a reality.
Don't let it overwhelm you. Life doesn't happen all at once. It happens in minutes and hours. Take each day as an opportunity to seek God about what He would want for you to do that particular day.
It doesn't matter how old you are. You can act on the dreams and ideas He has put in your heart. People may want to put you out of pasture, but God never does that. He is with you no matter what. So, don't waste your precious life only dreaming, and not acting upon it.
He didn't care that Abraham was an old man when He gave him an idea of his future as the father of many generations. He doesn't care if you are five years old or ninety-five years old. He sees your potential and the impact you can have on the future, regardless of what age you are.
Get determined for the dream in your own life, to move forward, to keep on living and learning, and doing something. You should be constantly dreaming, constantly believing the Father will help you achieve higher heights. You gotta know that what you dream of will come to pass, if you have faith in God, in yourself, and in the dream.
It is your responsibility to not only dream and be determined in your dream, but also to move into the direction of your dream. Don't spend too much of your energy on what other people have done in the past, or you will continually be living in the past. The past never sees the future!
It All Starts On The Inside

God drops a dream in your heart in the form of a picture of that dream. In other words, you have to see it on the inside. When you see a promise in the Bible, that promise is designed by the Holy Spirit to paint a picture on the inside of you. Words create images. The Word says, "I wish above all things that you may prosper and be in health." The Holy Spirit will take that scripture, those God inspired words, and create an image on the inside of you.
From that moment on, you will begin to have an image of health and prosperity on the inside of you. When you meditate on the scripture, your image is going to become more real on the inside of you than what is happening on the outside.
The Bible says that "as man thinks in his heart, so is he." God's Word is designed to paint images. You can see it this way – your heart is the canvas, the Holy Spirit is the Artist, and the Word is the oil. As you fellowship with Him, the Holy Spirit will paint an image on the canvas of your heart of the way God sees you, not the way the world sees you.
We don't think in words, we think in images. When I speak the word house to you, you automatically think h-o-u-s-e and, it's likely that you think of your own house. But if I would say a mansion and you don't live in a mansion, then you don't see your own home any longer, you will see an image of somebody else's home.
That is the very reason why God put His Word in print, so you and I would get an image of what He promises us. God is not a respecter of persons. He is not going around picking out a few people and dropping a dream in their hearts because He loves them more than He loves someone else. He wants to plant a dream in the heart of everybody.
In order for that dream to drop into your heart, you must be in communion with Him. You must have time and fellowship with Him. The more time you spend with Him, the more real your dream will become. As a result, you will begin to look for it; you will begin to expect it to come to pass.
Never give up, keep looking for it. Get the image of what God has planned for you deep down on the inside and constantly see yourself walking in your dream. Seize your destiny. Don't let it slip away. Click here for more information.