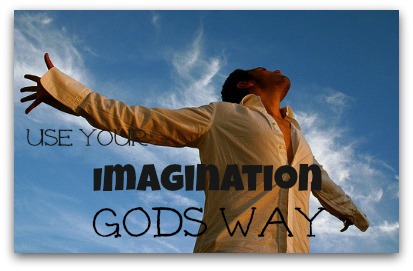 How To Use Your Imagination, God's Way
Lately, I've been in a mood to weed out junk that has accumulated around the house. While tidying some shelves in the garage, I found a forgotten unopened pressure cooker. Christmas in October! I had never used one before so I had to be serious and pay attention to the instruction manual. In case you're not aware, pressure-cooking is done in a special pot that is heated on a burner. The manual said to keep the burner heated to a level that would allow a steady stream of steam to escape from a vent in the lid.
The problem was, I couldn't see the steam. Was the burner hot enough? I walked around the stovetop and tilted my head several times in order to finally detect the wispy transparent cloud rolling off the pressure cooker. Just because I couldn't see it or touch it, didn't mean the steam wasn't there. Steam is real, yet difficult to see and pin down.
The meaning of the word imagination is kind of like that steam. Depending on the angle from which you observe it, it can take on very different meanings.
What Is Imagination?
My experience with trying to detect that steam coming out of the vent came to mind when I wanted to pin down a definition for imagination.
The word imagination has several definitions. But depending how you look at them, they are the opposite of each other. On one hand, imagination conveys something positive as defined at Merriam-Webster.com
"An act or process of forming a conscious idea or mental image of something…also: the ability or gift of forming such conscious ideas or mental images especially for the purposes of artistic or intellectual creation."
For example:
Through the author's imagination, the temperaments of Jesus' disciples came alive for me.
On the other hand, the word imagination can convey a negative meaning of something imaginary according to this definition also found at Merriam-Webster.com.
"…to form a notion without a sufficient basis. "
For example:

She's not ill. It's all in her imagination.
In the Bible, especially the Old Testament, the word imagination is most often paired with vain or evil. So why is that? Does God dislike us to use our faculties of imagination? Our imaginations, as a function of our minds, are part of our souls. Like any other function of the soul, imagination can be used for purposes that are contrary to God. But when our imagination is placed under the Spirit's control, supernatural force is released. In fact, there is a powerful link between imagination and faith.
Let's explore
What Is The Link Between Faith And Imagination?
Now faith is the substantiating of things hoped for, [the] conviction of things not seen (Hebrews 11:1, DARBY).
In order to see a thing "not seen" we must use our imagination. We imagine what we believe or what we have faith for. It's a cycle: our imagination feeds our faith and faith expands our imagination.
In Romans 4:17 God is described as the One "who gives life to the dead and calls things that are not as though they are "(NIV – emphasis, mine). "Calling things that are not as though they are" requires an act of forming a conscious image of a thing. That's imagination.
In Ephesians 3: 20, we are told that as we make requests of God, His commitment to us is that He will go far beyond not only what we ask, but also what we can imagine. God is expecting us to use our imagination. The greater our capacity to imagine, the farther God must go in order to exceed it!
As we imagine the things of God, we know that we are limited, but we also must stretch ourselves to apprehend what lies beyond our natural sight.
Our faith is enhanced by our imagination when it is based upon the precepts, principals and interaction with the Divine. And there are other reasons that it is beneficial to use our imagination.
Why Is It Important To Use Our Imagination?
I hope you agree that imagination stimulates our faith, but it also has additional importance.
Through imagination, we give substance to God's Word in our minds. As we read a verse or a chapter, our imagination can bring a passage to life and open us up to God's imprint on His Words. For example, when we read "we and our household shall be saved," we can envision our family attending church together. That's imagination at work. That's faith.
Imagination also transports us to flow in God's compassion. We can identify with God and marvel at how he maintained His patience with the children of Israel. We can become the character of the woman caught in adultery, who had just escaped stoning, and too ashamed to lift her head heard the words "Go and sin no more." How do you think that feels? Use your imagination.
Using our imagination also helps us to flow in God's blessings. We read in 1 Corinthians 2:9, "Eye hath not seen, nor ear heard, neither have entered into the heart of man, the things which God hath prepared for them that love him." God has so many ways that he wants to bless us and for His blessings to flow through us. Can you imagine how He wants to bless you? Can you imagine how you can be a blessing to others? We've just scratched the surface of the role of your imagination in growing a connection to and love for the Father and Jesus. Let's wrap up with a few other quick ideas for stimulating your imagination.
Other Ways To Stimulate Your Imagination
We cannot believe for something and continue to look at things the way they are in the present. We must learn to form a mental picture in our hearts of that for which we are believing. We must see things that have not yet come to pass, looking ahead at the prize we desire. Faith is imagining and believing the desired goal as already accomplished.
Here are several other ways to stimulate your imagination toward the things of God. They are things either I have practiced or have heard from others.
Confessing God's Word is a great way to stimulate your imagination. We know that the Word is incorruptible seed. Confessing the Word is not like reciting a poem. The Word of God is alive and active and engages body, soul and spirit in creative imagination.
Asking yourself questions is always a good way to provoke your imagination. The possibilities are endless. One of my favorite questions is: What would my life be like if I truly believed _________? Imagine going through your day and see what is different when you believe_________.
Writing a letter to a person who you are praying for imagining the outcome when God has answered your prayer. Save it to share with them when God has answered your prayer for their situation. Tell them how grateful you are for God's changing power in their life.
I have known women who saved a seat in church for their husbands, years before the men were saved and wanted to attend church. Now that's calling forth things that are not as though they are!
Our limitless God places no limits on our imaginations!
Call To Action
Perhaps you see yourself as uncreative or unimaginative. But God created each of us to have, to some degree, the capacity to imagine.
Are you using your imagination for things that are less than or contrary to what God has for you? Today is the day to turn that around and encourage yourself by imagining all the good God has in store for you. Project yourself into a God-ordained future beginning right now. Feel yourself smiling as you imagine your experience of His blessing. And since it is real, go ahead and thank Him for it!