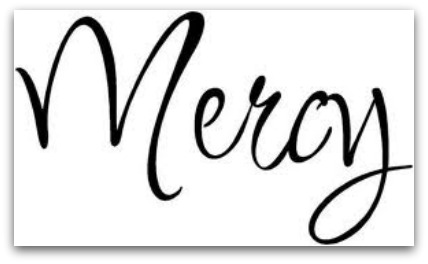 Mercy May Be the Missing Part
Blessed are the merciful, for they shall receive mercy.
Matthew 5:7 ESV
Most of us desire to receive more from the Lord than we have in the past. Maybe you think that because you have made so many mistakes and done so many wrong things that blessing will never come to you as it does to other people.
Let's talk about that today, because you may need to wake up to the mercy of God in a brand-new way. Lamentations 3:22-23 says: "The faithful love of the LORD never ends! His mercies never cease. Great is His faithfulness; His mercies begin afresh each morning."
One way to receive more from God is by getting a deeper revelation of the mercy of God. To receive something from God, we must have faith. We all know that! We must believe that God has the ability to do what we ask for. And we must believe that He is willing to do it.

We have confidence in Him that He is a good God and that He is as He is portrayed in the Bible. We know that He is always the same. So there is not a day that He is moody or wants to bully us or to act contrary to His word, right? He is what He says He is and He is a God of His Word. His word to us is always "yes" and "amen."

If all these things are true, then the problem lies within us. We are the ones who have difficulty believing, and maybe an even harder time receiving. If you doubt His willingness, you won't be able to receive from Him. Or if you think He is angry, critical, or judgmental, you won't be confident that He desires to bless you abundantly.

You may know that He has provided for all your needs, because everybody says so, and you have heard this message preached over and over again. But the fact is that His blessings are still not coming your way.

You keep wondering, "Why are others more blessed than I am?" Do you understand how amazingly merciful and kind He is? Once you do, you will be able to reach out and receive from Him. It is easy when you realize how much He loves you, how much He cares for you, and how much He wants to bless you despite yourself.

Always remember: He is a good God and His mercies are new every morning. EVERY MORNING, His mercies are new and are there for us to receive. Psalm 103 makes it very clear to us that every miracle ever done, was done because of His mercy and love. God is merciful in all His acts and all His ways.

I am convinced that a greater revelation of divine mercy will open a door for the blessings of God into your life. Begin meditating on the mercy of the Lord, and allow the Holy Spirit to reveal His mercy to you in a greater measure.
Will you make a choice to follow through on receiving His mercy? Your life will be forever transformed. Now, that's the choice-driven life!
Today's Bible Reading: 
2 Sam 9-10; 1 Chr 18-19; Acts 26; Ps 89

Click Here for your 5 Day Weekly Bible Reading plan!
Subscribe to our FREE Updates as soon as they are published and receive our FREE Report; Click Here
The Most Important Choice You Can Make:
Prayer for Salvation:
God in Heaven, I come to You in the name of Your Son, Jesus. I confess that I haven't lived my life for You. I believe that Jesus is the Son of God. I believe that He died on the cross and rose again from the dead so I might have a better life now and eternal life in heaven. Jesus, come into my heart and be my Lord and Savior. From this day forward, I'll live my life for You to the best of my ability. In Jesus' Name I pray, Amen.
Click Here if you need more information.