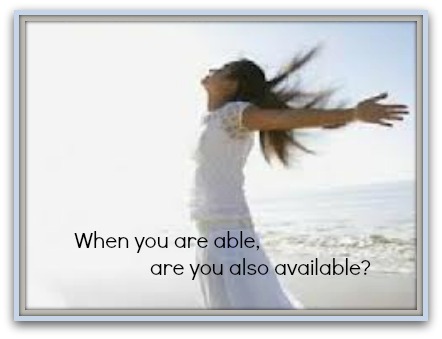 When you are able, are you also available? 
… 'You can't force these things. They only come about through my Spirit,' …
Zec 4:6 
I really love the local church. Do you? I am part of an amazing church. Our pastor is on fire. The services in our church last 2 hours each. Most people stay for two services because the preaching is THAT good! Add to that an hour of prayer before the services, and many are committed to the church for 5 hours on the days services are held. Awesome!!
Acts 2:42 shows us a glimpse of the emerging Church and the priorities of its people: "And they continued steadfastly in the apostles' doctrine and fellowship, in the breaking of bread, and in prayers."
This verse tells us that the early church was involved in the lives of others. In true fellowship, one person joins with another and stands with that person until the situation he or she is facing turns around.
There is a grace upon our lives that dwells within us for the purpose of lifting up the people we encounter and interact with every day. The more we exercise this grace, the broader our influence will grow.
It will become evident that we desire to serve God in serving His grace to people around us. But first we need to establish God's grace in our hearts. This is significant to our own growth because it's the way we grow into the person God created us to be.
Have you ever been in a situation where you knew that in your own ability, you were not able to do what you were supposed to do? Maybe you were even fearful and wanted to walk away, but there was no way out. I have been there. An example from the Bible is Zerubbabel, a godly governor who ruled over Judah. One of the greatest challenges of his life came when King Cyrus of Persia commissioned him to oversee the rebuilding of the temple in Jerusalem.
Although it was an honor to have been entrusted with this very important task, he knew that he needed a word from God's prophet Zechariah in order to take hold of his new position with confidence. The prophet Zechariah assured him:
"This is what the LORD says to Zerubbabel: It is not by force nor by strength, but by My Spirit, says the LORD of Heaven's Armies. Nothing, not even a mighty mountain, will stand in Zerubbabel's way; it will become a level plain before him! And when Zerubbabel sets the final stone of the Temple in place, the people will shout: 'May God bless it! May God bless it!'" (Zec 4:6-7).
God was looking for a man who knew he couldn't do anything in his own power but who would rely on Him for the ability and wisdom to fulfill His plans. God was absolutely not looking for someone who would rely on his own strength or power to try to accomplish God's will.
What we do in God's Kingdom will only remain and bear fruit as we fulfill our assignment by the Spirit of God and not by human effort alone. It is said, "God is looking not for ability, but for availability." He searches for those whose hearts are turned toward Him and who want only to please and obey Him.
We must make a choice to see our situation through God's eyes and what He promises in His Word. By doing so we will stretch beyond the limits of our ability and draw instead upon the infinite resources of His ability. By doing this we truly make ourselves available and qualified to do His work.
Today's Bible Reading:
1 Sam 18-19; 1 Chr 3; Acts 13; Ps 59

Click Here for your 5 Day Weekly Bible Reading plan!
Subscribe to our FREE Updates as soon as they are published and receive our FREE Report; Click Here
The Most Important Choice You Can Make:
Prayer for Salvation:
God in Heaven, I come to You in the name of Your Son, Jesus. I confess that I haven't lived my life for You. I believe that Jesus is the Son of God. I believe that He died on the cross and rose again from the dead so I might have a better life now and eternal life in heaven. Jesus, come into my heart and be my Lord and Savior. From this day forward, I'll live my life for You to the best of my ability. In Jesus' Name I pray, Amen.
Click Here if you need more information.