The Spirit of Caleb; Facing Your Giants
Not one shall come into the land where I swore that I would make you dwell,
except Caleb the son of Jephunneh and Joshua the son of Nun.
Numbers 14:30 ESV
It was an exciting day. They had come from bondage in Egypt and were ready to enter the promised land. Moses called forth twelve people, one from each tribe, to enter as a group of spies to scout out the land. Caleb, always ridiculed because his name meant dog, was excited and somewhat redeemed in the fact that he was one of the twelve.
They got their things together and were sent to discover this land "flowing with milk and honey."
Upon arriving in the land, there were mixed accounts of what had been. All agreed the land would surely produce wonderful vegetation. Vegetables, fruits, and grains would be abundant, and livestock would have plenty of good land on which to graze.
Most of them also agreed the people were too strong and any attempt to take the land would be a serious mistake. Caleb thought differently. Caleb believed with God on their side they would surely succeed. Yes, the people were bigger in physical stature, and yes, they had more organized and experienced soldiers, but the children of Israel had God.
Was it not God who had just delivered them from the oppression of the "mighty" Egypt? Was it not God who had just led them across the Red Sea? Was it not God who had followed them as a cloud by day and a fire by night?
If God could do all that, then He could surely lead them into the land promised them as long ago as the ancestors Abraham and Sarah.
The people began to weep and regret having left Egypt. Moses, Aaron, Joshua, and Caleb spoke against them saying that if God is with "us," then "we" will take the land.
The people were so rebellious that Moses had to intercede on their behalf. In front of the Lord, ten of the men who spied the land, all except Joshua and Caleb, died from the plague.
The people were horrified. They tried to make things right by saying, "Yes, we will fight these people." But God was not with them, and they failed.
The twelve spies were leaders in their tribes. Yet only Caleb and Joshua were faithful and true to God. It was a very hard lesson, one that creates crisis in faith from one end of the camp to the other.
What the ten spies had seen as divine rejection and a warning not the enter the land. Caleb saw as an invitation to new life.
Source: The Experiencing God Study Bible
Today's Bible Reading: 
Numbers 8-11; Colossians 1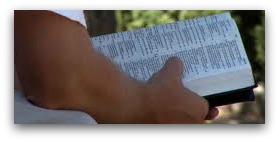 Click Here for your 5 Day Weekly Bible Reading plan!
Subscribe to our FREE Updates as soon as they are published and receive our FREE Report; Click Here
The Most Important Choice You Can Make:
Prayer for Salvation:
God in Heaven, I come to You in the name of Your Son, Jesus. I confess that I haven't lived my life for You. I believe that Jesus is the Son of God. I believe that He died on the cross and rose again from the dead so I might have a better life now and eternal life in heaven. Jesus, come into my heart and be my Lord and Savior. From this day forward, I'll live my life for You to the best of my ability. In Jesus' Name I pray, Amen.
Click Here if you need more information.