How Do Your See Yourself?
Therefore, if anyone is in Christ, he is a new creation.
The old has passed away; behold, the new has come.
2 Corinthians 5:17
Have you ever met someone who has a poor self-image, who seems to exude an air of inferiority? Psalm 109:18 describes a man who "wears cursing as a garment." Negative self-talk and a sense of insecurity are curses that are as easily perceived as a man's clothing.
On the other hand, when you meet a person who is confident and self-assured, it's easy to recognize their poise. Why? Because a confident person exudes confidence.
How do you see yourself? As a champion who wins nearly every fight? Or as a loser—someone who struggles through life, never conquering a single problem? But why should you pay attention to how you see yourself?
It is simply a fact that you will inevitably project what you feel about yourself to others. So the question of how you see yourself is very important. Seeing yourself as God sees you is critical to how you represent Him and your effectiveness in carrying out His purposes. So what does the Word of God have to say about us in this regard?
In Romans 8:37, the apostle Paul, under the inspiration of the Holy Spirit declares "…we are more than conquerors…"
The phrase we are more than conquerors" is translated from the Greek hupernikao. Huper means over, above, and beyond. It depicts something that is way beyond measure. It carries the idea of superiority—something that is utmost, paramount, foremost, first-rate, first-class, and top-notch; greater, higher, and better than; superior to; preeminent, dominant, and incomparable; more than a match for; unsurpassed, unequaled, and unrivaled by any person or thing.
Paul had a specific idea of the kind of conquerors we are in Jesus Christ, and uses the word huper to dramatize our victory. We are huper-conquerors!
Paul is telling us:
We are greater conquerors, superior conquerors, higher and better conquerors! We are more than a match for any foe! We are utmost conquerors, paramount conquerors, top-notch conquerors, unsurpassed conquerors, unequaled and unrivaled conquerors!
That's precisely who you are in Jesus Christ! Stop looking at yourself as a struggling loser. Regardless of your past experiences, you must begin to look at yourself through God's eyes and in the light of Romans 8:37. This verse declares that you are always the winner and never a loser! And when you begin to see yourself the way God sees you, it will change the way others see you too.
Make a choice to resolve right now to see yourself the way the Word of God does—as a walloping and conquering force! You are more than a match for any adversary or foe that can come against you today!
Today's Bible Reading:
Exodus 13-15; Eph 3; Psalm 114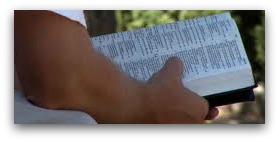 Click Here for your 5 Day Weekly Bible Reading plan!
Subscribe to our FREE Updates as soon as they are published and receive our FREE Report; Click Here
The Most Important Choice You Can Make:
Prayer for Salvation:
God in Heaven, I come to You in the name of Your Son, Jesus. I confess that I haven't lived my life for You. I believe that Jesus is the Son of God. I believe that He died on the cross and rose again from the dead so I might have a better life now and eternal life in heaven. Jesus, come into my heart and be my Lord and Savior. From this day forward, I'll live my life for You to the best of my ability. In Jesus' Name I pray, Amen.
Click Here if you need more information.