God Has The Master Plan For Each Of Our Lives
For I know the plans I have for you, declares the Lord,
plans for welfare and not for evil, to give you a future and a hope.
Jeremiah 29:11 
God has the master plan for each of our lives, but that doesn't mean He reveals it to us all at once. If He were to show us each and every detail of the plan, we would follow the plan and lose sight of God in the process. God requires us to follow Him through exercising our faith. How can we know His plan?
We can ask God to make His plan clear to us and commit to follow as He leads. The blessing of God lies in His master plan for your life. But it takes faith to do what He asks us to do. What is faith?
Faith simply believes what God says in His Word. It trusts what He says more than we trust our natural senses or what other people say. Faith believes God's Word more than the circumstances around us. How do we develop that kind of faith?
Romans 10:17 tells us "Faith comes by hearing, and hearing by the word of God." If you want to strengthen your faith, spend more time in the Word of God. Whatever He calls you to do, you must obey for that is where God's blessing lies. Obey God's written plan, His Word, and you will receive the plan God has for you as an individual. How do we find the faithful diligence required to connect with the master plan?
God is eager to help us. He wants our faith and obedience and has given us the ability to connect to His master plan for us (Psalm 145:18).
As you spend time with God, seeking His master plan, you will find yourself being more and more separated unto God. In Acts 13 we read about a meeting of ministers who had gotten over into the presence of the Lord. While they were worshipping Him and fasting, the Holy Spirit said, "Separate now for Me Barnabas and Saul for the work to which I have called them" (Act 13:2 AMP). Why are we to be separated?
The Lord separates us from the world and unto Himself. Each of us is to be separated unto God from all else, from all worldly cares, directing our hearts straight to Him.
We pray in the Spirit which is a place where we are more conscious of God than anything else. To access this place, we must yield ourselves to the Holy Spirit.
In Mark 9, on the Mount of Transfiguration, we are told that they saw Jesus only. We want to see Jesus only.
The Lord has a master plan and He wants to make Himself real to us as He reveals the plan. Will you choose to separate yourself unto Jesus and release your faith to be in His presence today and every day. Now, that's the choice-driven life!
Today's Bible Reading:
Exodus 10-12; Eph 2;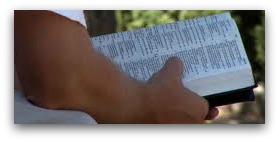 Click Here for your 5 Day Weekly Bible Reading plan!
Subscribe to our FREE Updates as soon as they are published and receive our FREE Report; Click Here
The Most Important Choice You Can Make:
Prayer for Salvation:
God in Heaven, I come to You in the name of Your Son, Jesus. I confess that I haven't lived my life for You. I believe that Jesus is the Son of God. I believe that He died on the cross and rose again from the dead so I might have a better life now and eternal life in heaven. Jesus, come into my heart and be my Lord and Savior. From this day forward, I'll live my life for You to the best of my ability. In Jesus' Name I pray, Amen.
Click Here if you need more information.