Full Obedience to God is Your Best Move
Beloved, if our heart condemns us not, then have we confidence toward God.
And whatsoever we ask, we receive of him, because we keep his commandments,
and do those things that are pleasing in his sight.
1 John 3:21–22
In I Kings 5, we read the story of Naaman, a captain in the Syrian army who suffered from leprosy. He sent for the prophet Elisha seeking healing. Elisha's instructions to dip himself seven times in the Jordan River seemed too simplistic to Naaman, so he was very annoyed. His servants suggested that he should obey the prophet. The moment he obeyed, he was healed.
There are people, who like Naaman, think they can disobey God and continue to receive His favor. They think that if no one knows what is going on in their hearts, their disobedience can do no harm and so they continue in disobedience. They hope that because God is always merciful, they always can go to Him and He will buffer the consequences of their disobedience.
That God is a good God and He will always forgive confessed sin is true. But at some point the transgressors own heart will begin to condemn him or her. The Greek word for condemn contains the root word genesko which means to learn, know, come to know, get a knowledge of perceive, feel. So our hearts tell us that our attitude or actions do not line up with God's will.
Once your heart condemns you, you can speak faith-filled words, but they will be overridden doubts and fears that will prevent your prayers from being answered. Answered prayer comes from the heart that does not condemn itself.
The heart that is obedient to God and His Word, the uncondemend heart, experiences tremendous boldness in its prayer life and walk of faith. This boldness is a confidence that you can go before God without fear, guilt or condemnation and you will receive answers to your prayers.
The desire to please God coupled with obedience pleases Him. He gives you the desires of your heart. (I John 5:14,15) Learning to obey instantly is a life-long learning process, but one well worth the struggle.
As you spend time reading and studying the Word, you will begin to clearly discern the voice of the Holy Spirit through Scripture because faith cometh by hearing and hearing by the Word of God (Romans 10:17). God will begin to speak directly to your situation and will give you specific instructions to follow. That is the moment you must be alert and do as He tells you (James 1:22).
Each act of obedience increases your faith in God, and then when you approach Him with a request, He will surely answer you. You know that when you come to the throne of grace, you will obtain mercy and find grace to help in time of need (Hebrews 4:16)
Your obedience comes before the answer to your prayer, comes before your healing and connects you to the blessings that God will pour out in your life. Don't let disobedience rob you of the confidence that belongs to you. A condemning heart will bring doubt and unbelief about the Word of God in your life. In contrast, obedience produces faith. When you are obedient, you will have the confidence before God that the Word is working for you.
Will you choose to seek out God's will and obey Him fully? Now, that's the choice-driven life!
Today's Bible Reading:
Haggai; Zechariah 1; 1 John 2; Ps 138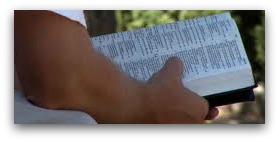 Click Here
for your 5 Day Weekly Bible Reading plan!
Subscribe to our FREE Updates as soon as they are published and receive our FREE Report; Click Here
The Most Important Choice You Can Make: Prayer for Salvation: God in Heaven, I come to You in the name of Your Son, Jesus. I confess that I haven't lived my life for You. I believe that Jesus is the Son of God. I believe that He died on the cross and rose again from the dead so I might have a better life now and eternal life in heaven. Jesus, come into my heart and be my Lord and Savior.
From this day forward, I'll live my life for You to the best of my ability. In Jesus' Name I pray, Amen.
Click Here
if you need more information.