Place God First In Your Life
Seek the Kingdom of God above all else, and live righteously, and He will give you everything you need.
Matthew 6:33 (NLT)
I live in Canada, where there are no Chick–Fil–A restaurants. But I am aware of how they have stood up for their Bible-based beliefs, which I really admire. The founder, S. Truett Cathy, opened up the first Chick–Fil–A restaurant in an Atlanta, Georgia mall in 1967. He became a pioneer in the fast–food industry, because of his boneless chicken sandwich.
Although everybody thinks that marketing strategies are responsible for Chick-Fil-A's stellar success, we Believers know that it was S. Truett Cathy's commitment to God that caused him to become a top businessman. One of the ways that he put God first was was closing down his restaurant on Sundays, one of the busiest days of the week in the restaurant industry. Chick–Fil–A became one of the largest fast–food chicken restaurant companies in America despite its shortened business hours, which is an amazing testimony. My father was also a successful businessman because he honored God on Sundays.
God is a God of progress. He has placed the desire for progress into each of our hearts. This compels us to move forward in every area of our lives. God has a plan of ultimate success for your life—if you choose to honor Him and listen to His Word. So, when was the last time you allowed God to speak to you about His plans for your life? God speaks to us throughout the day, through His Word and through our circumstances. The Holy Spirit is behind that Word, but sometimes we just don't take the time to listen to His voice.
God speaks to you in a totally different way than He speaks to someone else. He is a very personal God and knows what you need for a particular situation. At just the right time, He will make clear His mysteries and revelation to each one of us about the choices and decisions we should make in our lives. Decisions that are determined, not by our career objectives, but by His Divine foresight.
Revelation knowledge strengthens you; it equips and empowers you to walk in His ways and to be successful. Revelation comes when you seek God with everything within you and with it comes blessing.
When Simon received the revelation that Jesus was the Christ, the Son of the Living God, Jesus said to him "…Blessed art thou, Simon Barjona: for flesh and blood hath not revealed it unto thee, but my Father which is in heaven" (Matthew 16:17). It is clear, that as Jesus said, revelation in our lives is a blessing.
You and I can progress if we make that committed decision to honor God. We can pray in the Spirit, read His Word every day and allow Him to reveal the secrets that we need to know for the next season in our lives.
Seek first His Kingdom, and like S. Truett Cathy, your breakthrough will come because you hear His voice and are willing to obey.
Will you choose to lay it all on the line and seek God's Kingdom first? Now, that's the choice-driven life!
Today's Bible Reading:
Ezra 3-4; 1 John 1; Psalm 92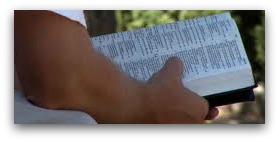 Click Here
for your 5 Day Weekly Bible Reading plan!
Subscribe to our FREE Updates as soon as they are published and receive our FREE Report; Click Here
The Most Important Choice You Can Make: Prayer for Salvation: God in Heaven, I come to You in the name of Your Son, Jesus. I confess that I haven't lived my life for You. I believe that Jesus is the Son of God. I believe that He died on the cross and rose again from the dead so I might have a better life now and eternal life in heaven. Jesus, come into my heart and be my Lord and Savior.
From this day forward, I'll live my life for You to the best of my ability. In Jesus' Name I pray, Amen.
Click Here
if you need more information.