God Came Down To Our Level
Who, being in very nature God, 
did not consider equality with God
something to be used to his own advantage; rather, he made himself nothing
by taking the very nature of a servant, 
being made in human likeness.
And being found in appearance as a man,
he humbled himself 
by becoming obedient to death—even death on a cross!
Philippians 2:6-11
When my husband and I were first born again, the preacher told this story about ants as a metaphor for the salvation message:
As we watch ants, we can see their busyness and diligence, but we can also see potential danger in their surroundings, because we have the bigger picture. For instance, we can see that if they continue building at a certain site, their colony will be destroyed by a danger they cannot see from their ant-size perspective.
If we were to attempt to warn them of this danger, shouting, "Look out, look out," they would not hear us. The only way that we could help them would be, if we could, to become one of them, by laying down our own humanity, so to speak, and becoming an ant for a season.
The preacher then related the metaphor to Jesus, reminding us that God did the same for us: He left the glory of heaven to share the experience of humanness with us. Jesus came to earth in the same manner and form as we did, needing the same care that all babies do: food, clean diapers, a soothing touch, and parental caretaking.
He experienced the same frustrations, temptations, hunger and pain. And He also experienced the same joy and sadness. As He participated in everyday events, He made friends, as well as enemies. For thirty years (as far as we know), He performed no healings, miracles or transfigurations. He lived an ordinary, human existence.
Jesus was gifted at building relationships on the principal of commonality. Commonality builds bridges between people, because we tend to trust people who are like us and look for experiences that are common to our own.
Men, seeking to have commonality with themselves, created those deities. For example, Apollo and Zeus were gods who mirrored the qualities of men in their quarreling, selfishness and philandering. Perhaps the people thought if they could make gods in their own image that they could understand them and trust them.
But in Jesus, we have quite a different story. We have God who made man in His own image and the Himself like us, yet without taking on our sinful nature in order to save us from a dangerous end. He became like the ant in the metaphor, coming down to our level, getting our attention, and empowering us to be like Him. The Bible tells us that He experienced every kind of temptation that we experience.
That's commonality. It's much easier to trust what someone says when you know that he has been where you are, when he has walked in your shoes.
In this Christmas season, let's all take some time to think about the awesomeness of our God. Taking on the nature of a human was an incredible act of humility…and an incredible act of love. It showed God's wisdom and just how well He knows our hearts. It testified that He was (and is) willing to go to incredible lengths to secure our trust.
Will you choose to accept the gift of God coming down to your level? Will you choose to place your trust in Him? Now that's the choice-driven life!
Today's Bible Reading:
 Ezekiel 46-48; John 16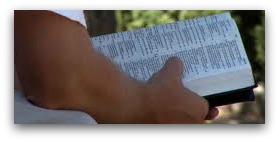 Click Here
for your 5 Day Weekly Bible Reading plan!
Subscribe to our FREE Updates as soon as they are published and receive our FREE Report; Click Here
The Most Important Choice You Can Make: Prayer for Salvation: God in Heaven, I come to You in the name of Your Son, Jesus. I confess that I haven't lived my life for You. I believe that Jesus is the Son of God. I believe that He died on the cross and rose again from the dead so I might have a better life now and eternal life in heaven. Jesus, come into my heart and be my Lord and Savior.
From this day forward, I'll live my life for You to the best of my ability. In Jesus' Name I pray, Amen.
Click Here
if you need more information.