The Holy Spirit: Our Antidote to Strife
Let nothing be done through strife or vainglory;
but in lowliness of mind let each esteem others better than themselves.
Philippians 2:3
This week I was involved in a situation in which I had to show myself stronger than I actually was. There was a disagreement in one of my working relationships and I had to lean on the Holy Spirit to do what was right. He showed me where I needed to make some changes and that I should listen and discern what was really going on. In the end, I felt really blessed that I had addressed the situation in a way that was pleasing and obedient to God. A big part of that was disciplining myself to follow the still, small voice of the Holy Spirit.
Here are five principles for times of inter-personal conflict:

1. Ask for the Holy Spirit's help at the first sign of conflict – even if you don't feel "spiritual" and want to start mentally justifying your view of the matter. The more securely you become attached to "being right," the more difficult it is to yield to the Holy Spirit. Just do it at the outset.
2. Examine yourself for any changes that may be needed. By yielding to the Holy Spirit first, you will be more receptive to any changes He directs you to make. One must examine oneself in order to know which areas require change. God will always honour a humble, teachable spirit. As this step becomes habitual to you, it will become easier to let go and trust God to be your vindicator.
3. Actively listen to the other person. One of the first ways you can diffuse an escalating situation is to actively listen to the other person. Although it sounds easy, it is challenging to listen without mentally engaging in what you will say next. Truly hear them and acknowledge their position.
4. Avoid becoming defensive or arguing. A soft answer turns away wrath. Sometimes the best answer is to respond empathetically by saying, " I'm sorry you feel that way" or " I'm sorry this is happening to you." Other times we may need to accept responsibility, realize our actions have affected others, and simply say, " I'm sorry."
5. Make sure your opinion or counsel is welcome. We all have opinions and some of us have a harder time than others keeping them to ourselves. Most people want to be assured that we care about their feelings more than they want our opinion or counsel. There are times that, indeed, we should express what we think about a situation, but it requires discernment to know when the other person is most receptive. If they are on the edge of anger, the best thing we can do is to ask the Holy Spirit for the best time to approach them.
I am so thankful that the Holy Spirit is always there to help us through our rough patches. In my situation, He instructed me to stay calm and to listen to the frustration of the other person. I don't always get it right, but as long as the Holy Spirit is guiding and assisting me, I can honour God in times of conflict.
Will you choose the Holy Spirit as your antidote to strife? Now that's the choice-driven life!
Today's Bible Reading:
Jer 25, 35, 36, 45; James 3; Ps 133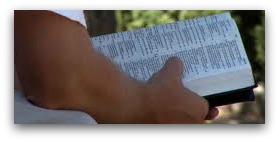 Click Here
for your 5 Day Weekly Bible Reading plan!
Subscribe to our FREE Updates as soon as they are published and receive our FREE Report; Click Here
The Most Important Choice You Can Make: Prayer for Salvation: God in Heaven, I come to You in the name of Your Son, Jesus. I confess that I haven't lived my life for You. I believe that Jesus is the Son of God. I believe that He died on the cross and rose again from the dead so I might have a better life now and eternal life in heaven. Jesus, come into my heart and be my Lord and Savior.
From this day forward, I'll live my life for You to the best of my ability. In Jesus' Name I pray, Amen.
Click Here
if you need more information.