Jesus Came To Speak To Us
My sheep hear my voice, and I know them, and they follow me.
John 10:27 (NKJV)
There are many voices crying for our attention. Our life is governed by what we believe and what we believe depends on what we take in and accept as truth. Experts say that we receive up to 3,000 messages each day! And with digital and social media that number is growing rapidly. Public personalities speak their opinions and views to all who will listen. The currency they trade in is power, which is gained through influencing their audience.
In Jesus' time, the Pharisees were the voice of the hour. They had a following, an audience. And Jesus didn't fit in with their doctrine. In Matthew 9:11-13, we read that the Pharisees looked down at those who didn't follow them. They referred to them as scum and wanted to know why Jesus ate with them. The Pharisees studied the scriptures for truth but lacked the love of God. They were caught up in self-righteousness and status, and had no idea why Jesus did what He did. They had no idea that they were totally indoctrinated into a false belief system. And they indoctrinated their followers into the same system.
In Mark 4:24, Jesus instructs us to think, discern, and to be careful and prayerful about what we take in. God speaks to us through his Son at all times, every minute of every day (Hebrews 1:1–3). We must continually inquire of ourselves "What does God say about this?" And when we know the answer, we can be confident and certain that we have discerned God's way. Seeking God this way will help us to both discover the life we were born to live and to do His will in every area of our lives.
Will you choose to build your life on what you hear through the media or will you build your life on the Word of God? John 6:63b says: "The words that I speak to you are spirit, and they are life." Every word that Jesus speaks gives us life because they are Spirit-breathed words.
Jesus came to speak to the poor, broken-hearted, captive, blind, broken, addicted, wounded, damaged, lost, rejected, and wandering. In other words, Jesus came to speak to us! God has spoken His love to us through His Son.
Will you choose to hear and heed the voice of the Good Shepherd? Now, that's the choice-driven life!
Today's Bible Reading:
Jer 5-7; 2 Cor 10; Psalm 75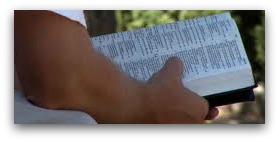 Click Here
for your 5 Day Weekly Bible Reading plan!
Subscribe to our FREE Updates as soon as they are published and receive our FREE Report; Click Here
The Most Important Choice You Can Make: Prayer for Salvation: God in Heaven, I come to You in the name of Your Son, Jesus. I confess that I haven't lived my life for You. I believe that Jesus is the Son of God. I believe that He died on the cross and rose again from the dead so I might have a better life now and eternal life in heaven. Jesus, come into my heart and be my Lord and Savior.
From this day forward, I'll live my life for You to the best of my ability. In Jesus' Name I pray, Amen.
Click Here
if you need more information.