The Privilege of Prayer
And this is the confidence we have in Him, that,
if we ask anything according to His will, he heareth us: And if we know that he hear us,
whatsoever we ask, we know we have the petitions we have desired of Him.
I John 5:14,15
I once heard it said: "All Christian failure is a prayer failure." James 4:2,3 says it this way: "…You do not have because you do not ask. When you do ask, you do not receive, because you ask with wrong motives…" In other words, it is important both to ask and to ask in agreement with God's will.
Prayer is a conversation with God. Through Jesus, we have the right to approach God boldly, making our requests known to Him (Philippians 4:6). When we say "Amen," we can leave God's presence saying: "I believe, therefore I have received" (Mark 11:24).
In 1st Timothy and elsewhere, the Bible tells us about different types of requests before God: "supplications, prayers, intercessions, and giving of thanks." Why do you think we are given such explicit details about prayer? Because God desires for us to have that for which we ask Him.
Prayer is the awesome avenue through which our Source of Supply meets our needs. God's attitude about prayer is always: come boldly, have confidence and obtain. In other words, He expects prayer to achieve its intended purpose! He expects our prayers to move mountains on the earth. God never intended for prayer to be like wishing on a star or hoping our dreams come true. No, His design is that when we pray, we get results!
What do you see when you pray? I ask this because we don't think in words. We think in pictures, images and patterns. When you talk to yourself, that inner conversation within you, you may hear the words, but you also see images! When you pray, do you see the lack or do you see the supply? If you are asking for wisdom, do you see yourself making wise decisions? If you are asking for your family to come to the Lord, do you see your family attending church together?
By using your ability to see the outcome of the answer to your prayer, you begin your prayer with a thankful attitude because you are already experiencing God's answer. It is only a matter of time until God brings your prayer into the realm of reality.
Is this because you have willed your request into manifestation? Absolutely not! We pray with confidence because our every prayer is based on the Word of God. By praying God's words, we know we are in agreement with His express will. This gives us the confidence that we have "the petitions we have desired of Him."
Don't allow the privilege of prayer to become dry and routine. Your Father waits to hear from you.
Will you choose to approach God's throne boldly, exercising your privilege, making your requests known? Now, that's the choice-driven life!
Today's Bible Reading: 
2 Kings 18-19; 2 Chr 32; 1 Cor 9; Ps 67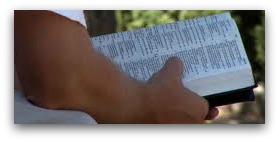 Click Here
for your 5 Day Weekly Bible Reading plan!
Subscribe to our FREE Updates as soon as they are published and receive our FREE Report; Click Here
The Most Important Choice You Can Make: Prayer for Salvation: God in Heaven, I come to You in the name of Your Son, Jesus. I confess that I haven't lived my life for You. I believe that Jesus is the Son of God. I believe that He died on the cross and rose again from the dead so I might have a better life now and eternal life in heaven. Jesus, come into my heart and be my Lord and Savior.
From this day forward, I'll live my life for You to the best of my ability. In Jesus' Name I pray, Amen.
Click Here
if you need more information.