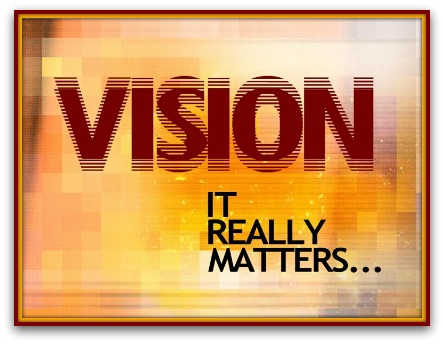 How Do You Discover the Vision For Your Life?
It is written, "No eye has seen, no ear has heard, no mind has conceived
what God has prepared for those who love him,"
but God has revealed it to us by His Spirit. 
1 Corinthians 2:9 (NIV)
Do you want to grasp the vision for your life? This verse makes the process quite clear: You can't see it with your eyes. You can't hear it with your ears. You can't conjure it up in your mind. What God has prepared for you – your vision – is revealed to you by His Spirit (emphasis mine).
He has plans of such magnitude and importance planned for use that we can't grab on to them in our own strength. We must ask Him to reveal His vision to us. God says, "You do not have because you do not ask" (James 4:2). To get a vision, we must ask for it. We need to say, "God, what do You have planned for me?"
Psalm 139:16 says that His plans for us were written in a book before we were ever born. God says His plans for us are "great and mighty." He has plans "to prosper us and give us a future and a hope, and not to harm us." He says if we will ask Him, He'll reveal His plans to us and to our children. (Jeremiah 33:3; Jeremiah 29:11; Deuteronomy 29:29).
I once heard this statement: "A vision is not just for you in your lifetime. It's to build something that lasts forever." I believe that! I believe that God has deposited specific things in us that make us unique as individuals and when we step into eternity, our uniqueness will continue to be a part of who we are.
Do you remember Joseph in the Old Testament, who had his vision and a dream that he was going to do something great one day? When he told his brothers, they became angry with him and he became the resented sibling of the family. You know the story.
Joseph knew that God had given him a vision, and he knew no one could stop him from fulfilling God's plan for his life. His dream carried him through years of adversity and eventually led him to his destiny.
We need to see the vision before us. I believe that one reason God told Habakkuk to write down the vision (Habakkuk 2:2) was so Habakkuk could continually refer back to it. So he could refresh his memory of the revelation and re-experience the emotion of the vision. Have you seen yourself where God wants you to be five years from now? Perhaps you too should write it down. Do you see yourself stronger or weaker? Richer or poorer? Staying where you are or going somewhere?
Christian and social futurist, Mal Fletcher says, "Faith lines up my life with all the choices God has already made for me." Romans 4:17 describes God as one who "calls forth things that are not as though they were." In other words, God sees things before they come into existence. God sees your future as if it has already taken place. And your eyes of faith will empower you to catch the same vision.
Will you choose God's exciting and custom-made vision for your life?  Now that's the choice-driven life!
Today's Bible Reading: 
Isaiah 23-25; 1 Cor 3

Click Here
for your 5 Day Weekly Bible Reading plan!
Subscribe to our FREE Updates as soon as they are published and receive our FREE Report; Click Here
The Most Important Choice You Can Make: Prayer for Salvation: God in Heaven, I come to You in the name of Your Son, Jesus. I confess that I haven't lived my life for You. I believe that Jesus is the Son of God. I believe that He died on the cross and rose again from the dead so I might have a better life now and eternal life in heaven. Jesus, come into my heart and be my Lord and Savior.
From this day forward, I'll live my life for You to the best of my ability. In Jesus' Name I pray, Amen.
Click Here
if you need more information.