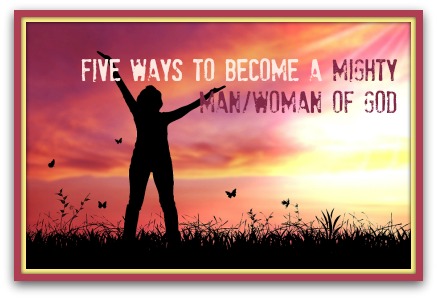 Five Ways to Become A Mighty Man/Woman Of God
Finally, my brethren, be strong in the Lord, and in the power of his might.
Ephesians 6:10
God wants us to live in the strength and power that Jesus made possible through His death. He desires for us to become mighty men and women of God, able to do great exploits on His behalf. While we may desire to do just that, an even be convinced that it is possible, we're unsure of how to go about it. Here are five lifelong disciplines that are key to becoming a mighty man or woman of God.
1. Abide in His Presence
What does it mean to abide in His presence? It means God is the central focus of our lives. In addition to the reward of fellowship with the Almighty, everything we could ever need or want can be found in His presence. One of the many benefits or blessings that comes from abiding in His presence is that He empowers us to do mighty things through Him.
2. Yearn for Him
The word yearn isn't used much today. But it conveys the deep longing and desire that we feel toward God. God will come close to us as we come close to Him (James 4:8). The great thing about yearning for God is that He always responds. We don't have to wait our turn behind a million other people to get to the front of His line. He's never too busy for us. He wants us to desire Him so He can show us great and mighty things (Psalm 105:4). And as we yearn for Him, we are fortified and equipped to be mighty.
3. Press into His Kingdom
The Kingdom of God is where God's presence resides and where His authority is His will. The word press comes from the Greek word meaning to pursue or to seek after eagerly. The books of Matthew, Mark and Luke recount the story of a woman who was determined to get into God's presence. This woman had suffered for years with a flow of blood. When she heard that Jesus was coming to her town, she did whatever it took to get close to Him, to touch the hem of his garment, so that His power could manifest in her situation. How determined are you to press into Jesus today? How eagerly are you seeking after His power to manifest in your life?
4. Give yourself to prayer and intercession
A mighty man or woman of God is a person who is strong in prayer. Instead of resorting to prayer when everything else has failed, his or her attitude is to pray before taking any action. The quality of might and power are especially manifested in those who are strong in prayer and faith.
5. Keep your life pure
God is always interested in our hearts. An outward-only appearance of holiness does not fool Him. He wants our innermost being to be holy. As we abide in His presence, yearn for Him, press into His kingdom and give ourselves to prayer and intercession, He corrects those areas in our lives that do not bring Him glory. Second Corinthians 3:18 tells us "But we all, with open face beholding as in a glass the glory of the Lord, even as we are changed into the same image from glory to glory, [even] as by the Spirit of the Lord.
Will you choose to pursue becoming a mighty man or woman of God? Now that's the choice driven life!
Today's Bible Reading:
 1 Kin 19-21; 2 Chr 17; Matt 1; Ps 129

Click Here
for your 5 Day Weekly Bible Reading plan!
Subscribe to our FREE Updates as soon as they are published and receive our FREE Report; Click Here
The Most Important Choice You Can Make:
Prayer for Salvation:
God in Heaven, I come to You in the name of Your Son, Jesus. I confess that I haven't lived my life for You. I believe that Jesus is the Son of God. I believe that He died on the cross and rose again from the dead so I might have a better life now and eternal life in heaven. Jesus, come into my heart and be my Lord and Savior. From this day forward, I'll live my life for You to the best of my ability. In Jesus' Name I pray, Amen.
Click Here
if you need more information.