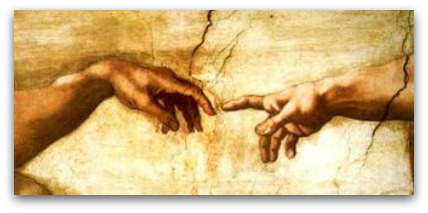 See Yourself as God Sees You
Can a mother forget the infant at her breast, walk away from the baby she bore?
But even if mothers forget, I'd never forget you—never.
Look, I've written your names on the backs of my hands.
Isaiah 49:15-16 MSG
Imagine that! The hand of God with your name written on it. That is something to think about!
You need to see yourself as God sees you – not the way you see yourself or how others see you! God loves you and treasures you. He had you in His mind from before the beginning of the earth; He created you in your mother's womb! You are not an accident.
Perhaps your parents told you that you were a mistake. I can assure you that God planned you, otherwise you would not have been here on this earth. He says in Jeremiah 29:11, " For I know the plans I have for you, plans to prosper you and not to harm you, plans to give you hope and a future." He has thoroughly thought out your destiny and takes delight in seeing you fulfill it.
Many subscribers to these devotionals have told me that they have lived in circumstances of extreme criticism and negativity. From an early age they were subjected to negative messages about their worth. Or as adults, they may have entered into relationships that were emotionally and physically abusive. Whatever the reason you doubt your worth to God and others, your thinking must change if you truly desire to enjoy what God has planned for you.
Take a moment and think about what is going on in your heart right now. What do you see there? How do you feel about yourself? What thoughts need to change? Make a choice to counteract negative thoughts with what God says about you in His Word. Once is not enough. When Satan knows you are serious about changing your thoughts, you may be temporarily bombarded with everything he can throw at you. Don't give in.
Here's an example of what to do when you recognize wrong thinking. Disown and disagree with the thought ("No. That is not my thought. I am not a loser") and then speak God's Word ("Deuteronomy 28:13 says 'I am the head and not the tail, above only and never beneath.'") Apply this principle to whatever thoughts trouble you. When in doubt, speak forth any Word that reinforces God's absolute love for you.
If you are feeling unworthy, that's the time to accelerate drawing near to God. Don't wait until you clean yourself up to approach Him and ask for help. He's infinitely more tender and compassionate than a mommy who takes a cool washcloth to wipe the grime from her child's dirty body. Feelings of unworthiness will always stand between you and the best God has for you. Go to the Father, and "ask and receive that your joy may be full" (John 16:24).
Make a choice today and believe that your heart is decided on your worth to God. Your step of faith is propelling you into a great future. You are valuable. Pay close attention. God has something good in store for you today!
Will you make the choice to see yourself as God sees you? Now that's the choice driven life!
Today's Bible Reading: 
1 Kings 9; 2 Chr 8; 1 Tim 5

Click Here
for your 5 Day Weekly Bible Reading plan!
Subscribe to our FREE Updates as soon as they are published and receive our FREE Report; Click Here
The Most Important Choice You Can Make:
Prayer for Salvation:
God in Heaven, I come to You in the name of Your Son, Jesus. I confess that I haven't lived my life for You. I believe that Jesus is the Son of God. I believe that He died on the cross and rose again from the dead so I might have a better life now and eternal life in heaven. Jesus, come into my heart and be my Lord and Savior. From this day forward, I'll live my life for You to the best of my ability. In Jesus' Name I pray, Amen.
Click Here
if you need more information.