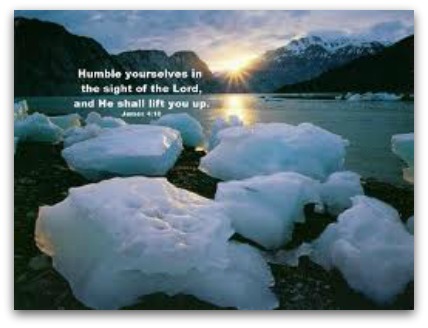 Humble Yourself and Ask!
Humble yourselves therefore under the mighty hand of God,
that he may exalt you in due time.
I Peter 5:6
Some people hate to "bother" God with details of their everyday lives. Especially things they have under control. They think God is too busy with people who really need His help or that with so many people who depend on Him, He has no time for small requests. Or at the other extreme, some people believe that we are to soldier through Satan's attacks in our own strength.
All of these mistaken ideas cloud the real issue: God wants us to ask for help and He wants us to ask often. He loves us through and through. No issue is too small. He cares about everything that concerns us. And He certainly doesn't expect us to resist Satan's attacks in our own strength.
He always desires to intervene and help us, but He waits for us to ask Him to get involved in our lives. He has given us the freedom of choice and will never work against His own will.
The Bible says, "You do not have, because you do not ask" (James 4:2). We experience so much frustration simply because we are too independent to ask for help. We have our own inflated ideas about what we can accomplish on our own. We need to have a humble attitude, knowing that apart from God, we can do nothing.
But victory is ours, when we are convinced that God cares; that He wants to intervene and act on our behalf; and that He waits for us to ask. When we humble ourselves and ask for His help, we are transformed through the act of humbling ourselves before Him.
For example, in spite of believing we can manage the many demands of our hectic schedules, we find we struggle with consistently reading the Bible and spending time daily with God. Although we desire to be faithful and disciplined, it seems that something always comes up. At the first sign of missing our appointed time, we should go to God for help that comes from beyond our own strength. By humbling ourselves to ask for help in establishing our daily routine, we honour God and, of course, He is eager to strengthen us to do whatever it takes to be in consistent fellowship with Him.
Will you make the choice to humble yourself and ask God for His help? Now that's the choice driven life!
Today's Bible Reading: 
1 Kings 5; 2 Chr 2; 2 Thess 3

Click Here
for your 5 Day Weekly Bible Reading plan!
Subscribe to our FREE Updates as soon as they are published and receive our FREE Report; Click Here
The Most Important Choice You Can Make:
Prayer for Salvation:
God in Heaven, I come to You in the name of Your Son, Jesus. I confess that I haven't lived my life for You. I believe that Jesus is the Son of God. I believe that He died on the cross and rose again from the dead so I might have a better life now and eternal life in heaven. Jesus, come into my heart and be my Lord and Savior. From this day forward, I'll live my life for You to the best of my ability. In Jesus' Name I pray, Amen.
Click Here
if you need more information.