We Are Lovers of God
 You shall love the Lord your God with all your heart and with all your soul and with all your might.
Deuteronomy 6:5 ESV
The Bible tells us the love of God has been shed abroad in our hearts by the Holy Spirit (Rom. 5:5). To love people unconditionally takes a supernatural kind of love! But praise God, we have the love of God residing in us. The question is, is it in manifestation? Do others see love demonstrated through our actions? Does God see it in our relationship with Him?
Seeing ye have purified your souls in obeying the truth through the Spirit unto unfeigned love of the brethren, see that ye love one another with a pure heart fervently.1 Peter 1:22 KJV
In Webster's dictionary, the word "unfeigned" is defined as: Not feigned (meaning invented; devised; imagined; assumed); not counterfeit; not hypocritical; real; sincere; as unfeigned piety to God; unfeigned love to man.
It is only through our relationship with the Lord that this supernatural love will flow through us back to the Father and to others.
Picture Jesus' last supper with His disciples. Just think, even then Jesus knew the plan of God. He knew that Judas was going to betray Him and He even released him to do it. Jesus knew every detail of the plan because He spent much time with His Father to get His plan.
Today, make a choice of releasing or unloading those things in your life that are taking up room that could be occupied by the Lord. It's by faith we receive what Jesus did for us in His body and upon the cross, and it's by faith that we give Him the cares we might be carrying.
Jesus has directed us to remember what He did for us on the cross so that we can walk in the freedom that He purchased with His life. We declare today that our bodies are whole and healthy because of the pain He endured for us. There are not enough words to thank Him for what He did on the cross. 2000 years later, His Blood is still working and we can apply it to every situation and expect change; there are no limitations!
We want to be lovers of God and to walk in love with all men. Ask Him for a fresh desire for the lost-those that do not know Him. Ask Him to make you a stronger witness and for opportunities to minister His love. His heart is for all men to experience His love and He has chosen to demonstrate it through you and me.
Will you choose to love the Lord your God with all your heart and with all your soul and with all your might? Now, that's the choice-driven life!
Today's Bible Reading:
Gen 6-8; Mark 3; Psalm 104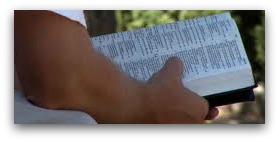 Click Here for your 5 Day Weekly Bible Reading plan!
The Most Important Choice You Can Make:
Prayer for Salvation:
God in Heaven, I come to You in the name of Your Son, Jesus. I confess that I haven't lived my life for You. I believe that Jesus is the Son of God. I believe that He died on the cross and rose again from the dead so I might have a better life now and eternal life in heaven. Jesus, come into my heart and be my Lord and Savior. From this day forward, I'll live my life for You to the best of my ability. In Jesus' Name I pray, Amen.
Click Here if you need more information.