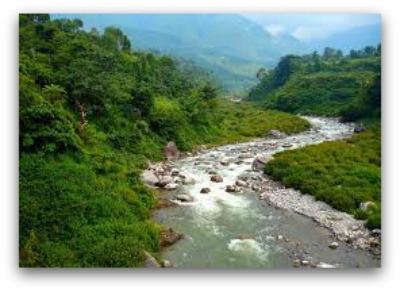 You are a River of Living Water
by Olga Hermans
On the day of Pentecost, fifty days after Passover, Jesus poured out His Spirit on believers in the upper room, and they began speaking in a new language. Rivers of living water flowed out of them, and they prophesied. This experience – the baptism of the Holy Spirit – is available to every born-again believer.

The origin of the rivers written about in John 7:38, is the river that flows from the throne of God. It is the life of God Himself. As we worship God, His river flows. As we speak in other tongues, His river flows. As we prophesy, His river flows. As we speak the Word, His river flows up and out of us.

Notice that Jesus didn't say that rivers of living water will flow once in a while from those who believe in Him. He said these rivers of living water will flow continuously. That living water is the Holy Spirit. In this passage, Jesus talks about the outpouring of the Holy Spirit, which we have received if we have accepted Jesus as Lord and Savior – the Person and the power of the Holy Spirit in us.

The river of living water flows within you and me. It is not supposed to be stopped up, but it is to bubble up within us and flow out of us. Many people have never experienced the baptism of the Holy Spirit. They have never let the rivers flow out of them. This experience was foreign to me as I was growing up, because I was raised in the Catholic Church. They also spoke a language that I couldn't understand – Latin.

I remember very well the day that I got baptised in the Holy Spirit. Although I told people that I desired to speak in tongues, nobody told to me that I could receive this gift any time. My ideas about how spiritual things worked came from my upbringing in the Catholic Church. So I thought that I had to go to a certain service to receive this baptism. Knowing this, God told me to go to a certain meeting that was a two-hour drive away.

At the end of the meeting, they asked if there was anyone who wanted to receive the baptism of the Holy Spirit. I did, and received it gloriously, fluently speaking a language that I had never heard before. I jumped in, and that language suddenly came alive. I loved it.

When you receive the baptism of the Holy Spirit, you are filled with a power that affects your entire being. To walk in victory, you must release the refreshing rivers of the life of God that have been deposited inside of you.

In John 7:37-38 Jesus says, "If you're thirsty, come and drink and I will cause rivers of living water to flow out of your innermost being." You see, Jesus was talking about rivers and not just one river.

There are many, many rivers flowing inside of you. One of those rivers is the river of reconciliation which actually is a ministry and is entrusted to every believer.

This means that anyone who belongs to Christ has become a new person. The old life is gone; a new life has begun! And all of this is a gift from God, who brought us back to Himself through Christ. And God has given us this task of reconciling people to Him. For God was in Christ, reconciling the world to Himself, no longer counting people's sins against them. And He gave us this wonderful message of reconciliation. 2Cor. 5:17-19

There are 3 things in this passage.
You have been made a new creation

You have a new ministry

You have a new message fit for a new creation. You definitely have become a new creation; something profound has happened to you.
I want to share a secret with you that my pastor shared with us. If you like to know more about this you can buy his book.
The more you yield to the river that is most prominent within your spirit, the more it will make exit from within your spirit for others in your life.

There are rivers of prayer, rivers of your destiny, rivers of full things that the womb of your spirit is pregnant with from Heaven; and when you begin to yield yourself over to the ministry of reconciliation, it will become the doorway to the destiny that God has for your life.

Isn't that awesome? So, when you start to reconcile people to God, that river starts to flow on the inside of you to them and that river opens up other rivers on the inside of you and the door of your destiny will open up before you.

I like to encourage you to yield to that river of reconciliation. That river is on the inside of every believer, and this river is a river of life. You have life on the inside of you to give.

It is good to yield to the Spirit of God, to yield to that grace, and allow the Holy Spirit to control us. Have you ever experienced that God touched your heart in spite of you being hardened or stubborn? Maybe you realized that there was a change in your heart and that's why you were able to respond to God? That was because of the grace of God that went into your heart.

The grace of God lives on the inside of you; in your heart and when you let it bubble up from within you, it will influence the rest of your life and your whole being and then is tangible for people around you to see it. THAT is your destiny!

You can subscribe to The Daily Choice which is a SPIRITUAL Devotion that helps you to make the right choices in your life!